2009 Recipient
President's Award for Living Our Core Values – How We Serve Our Patients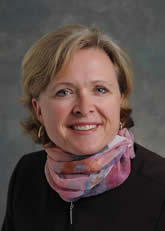 Cathy Mawdsley is a Clinical Nurse Specialist who works in the Medical Surgical Intensive Care Unit at University Hospital, and is the first recipient of the President's Award for Living Our Core Values – How We Serve Our Patients.
Cathy works primarily with longer-stay ICU patients, helping them and their families navigate what can often be a confusing and foreign environment. When one young patient became discouraged after spending weeks in the ICU on a ventilator, Cathy arranged to have Jim Cuddy, lead singer of his favourite band, Blue Rodeo, come to visit and give a private performance. This helped give the patient a much-needed boost of encouragement.
Examples such as this help demonstrate Cathy's commitment to living our core values of respect, trust and collaboration in all of her daily interactions.