MEDIA RELEASE
For Immediate Release:
June 3, 2009

(LONDON, Ontario) – Cliff Nordal, President and Chief Executive Officer, is pleased to announce the recipients of the newly expanded 2009 President's Awards, which now includes the original President's Award for Community Service, and two new awards for Living Our Core Values, How We Work Together and How We Serve Our Patients.
Heather Fisher, nurse clinician, is this year's recipient of the President's Award for Community Service. Dr. Glenn Bauman, radiation oncologist, and Cathy Mawdsley, clinical nurse specialist, are the inaugural recipients of the President's Award for Living Our Core Values, How We Work Together and How We Serve our Patients respectively. For more information on each recipient please see attached backgrounder.
The President's Award for Community Service recognizes an individual at LHSC whose volunteer achievements have made a difference to the lives of people in our community. It was established in 2006 to honour the community service legacy of Tony Dagnone, LHSC's first President and CEO.
"With the introduction of the President's Awards for Living Our Core Values, we have the opportunity to recognize two individuals each year who consistently demonstrate our values of respect, trust and collaboration," says Nordal. "As these new award categories reflect, our values provide us with a clear understanding of who we are and what our hospital stands for."
In the President's Gallery at both Victoria and University hospitals, Nordal affixed each winner's name on the perpetual plaques honouring recipients of the awards.

About London Health Sciences Centre
London Health Sciences Centre has been in the forefront of medicine in Canada for over 130 years and offers the broadest range of specialized clinical services in Ontario. Building on the traditions of its founding hospitals to provide compassionate care in an academic teaching setting, London Health Sciences Centre is home to South Street Hospital, University Hospital, Victoria Hospital and Children's Hospital, two family medical centres, and Lawson Health Research Institute - a joint research initiative with St Joseph's Health Care, London. As a leader in medical discovery and health research, London Health Sciences Centre has a history of over 30 international and national firsts and attracts top clinicians and researchers from around the world. As a regional referral centre, London Health Sciences Centre cares for the most medically complex patients including critically injured adults and children in Southwestern Ontario and beyond. The hospital's 10,000 staff, physicians, students and volunteers provide care for more than one million patient visits a year. For more information visit www.lhsc.on.ca


- 30 -
For more information contact:
Kelly Almond
Corporate Communications and Public Relations
London Health Sciences Centre
519-685-8500, ext. 77129
kelly.almond@lhsc.on.ca

After-hours assistance:
Call LHSC Switchboard at 519-685-8500 and ask to page the communication consultant on-call
Heather Fisher
2009 President's Award for Community Service
Heather Fisher is an acute pain service Nurse Clinician in the Department of Anesthesia at Victoria Hospital.
Fisher is Canada's second longest survivor after liver transplantation following her successful operation in 1983. Since then, she has made it her mission to raise awareness about the need for organ donation and the success of transplantation.
Over the past 26 years, Fisher has shown the world how organ donation can transform lives, by participating in activities that require physical endurance and stamina including climbing Mount Kilimanjaro in 1989. She is a volunteer member of several non-profit organizations whose mandate is to raise awareness about the need for organ donation. She has served on the council of the Canadian Transplant Association since its inception in 1987, and has worked with the London Transplant Gift of Life Association. She tours many London secondary schools to tell her story and encourage students to think about organ donation and to sign donor cards. Fisher has been the subject of numerous articles in newspapers, journals and other publications, each of which has helped further the cause of donation and transplantation.
In addition to her work on organ donation, Fisher is also involved with other charities such as Partners in Research, Run for the Cure, and the Children's Rainbow of Miracles. This last organization has allowed her the opportunity to travel to South America where she is part of a team that helps to fix twisted limbs and cleft palates.
"Heather demonstrates her warmth, compassion, initiative and impact both within the hospital walls and throughout our community, and I am thrilled to recognize her with this award," says Nordal.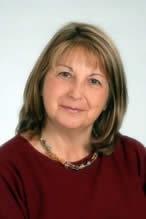 Dr. Glenn Bauman
2009 President's Award for Living Our Core Values – How We Work Together
Dr. Glenn Bauman is a Radiation Oncologist at the London Regional Cancer Program and Chair of the Department of Oncology for UWO.
"He is described by his nominators as an inspiring leader, a humble professional and a key thought leader within the London Regional Cancer Program," says Nordal. "He has a quiet style that gains respect through his consistent demonstration of acceptance and respect of the people he deals with every day."
In his leadership role, Bauman helped steer the London Regional Cancer Program from being a part of Cancer Care Ontario to functioning as an integral part of LHSC. He has been instrumental in the project planning for the Gerald C. Baines Centre for Translational Cancer Research, and his nominators cite his inclusive, consultative and respectful approach toward developing the vision for the facility as key determinants in its success to date.
Bauman takes time to empower and coach staff and faculty in their day-to-day lives, both personally and professionally. Because of this, he has become a respected, trusted and collaborative team player at all levels, demonstrating LHSC's core values on a daily basis.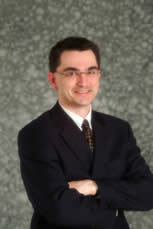 Cathy Mawdsley
2009 President's Award for Living Our Core Values – How We Serve Our Patients
Cathy Mawdsley is a Clinical Nurse Specialist who works in the Medical Surgical Intensive Care Unit at University Hospital, working primarily with longer-stay patients.
She helps patients and their families navigate what can often be a confusing and foreign environment during a frightening and stressful time. "In all circumstances, Mawdsley maintains a patient centred focus and works tirelessly to individualize the care patients receive to meet their specific needs," says Nordal.
One of Mawdsley's nominators recalls one particular instance that demonstrated her care and compassion with her patients. A young male patient had been in the ICU for many weeks connected to a ventilator, unable to move his limbs, take a breath or even blink his eyes. Mawdsley spent hours with this patient and his wife, trying to understand his likes and dislikes, hobbies and interests to connect with him and provide distractions that might be enjoyable.
She discovered that Blue Rodeo was his favourite band, and when the group was scheduled to perform in London she managed to contact the lead singer, Jim Cuddy, and persuade him to give this young man a private concert. This helped give the patient a much-needed boost of encouragement while solidifying Mawdsley's commitment to living our core values of respect, trust and collaboration in all of her daily interactions.