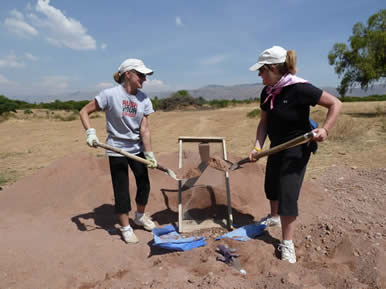 Exchanging lab coats and uniforms for shovels and wheelbarrows, Linda Pera, a lab assistant in pathology and her twin sister, Kim Riordon, a dental assistant in the dentistry department, traveled to Cochabamba, Bolivia to help build homes.
The trip was with Habitat for Humanity, which just before the sisters' arrival celebrated the completion of 10,000 built homes in Bolivia.
"This girl learned to mix cement the old-fashioned way," jokes Pera. "My sister has conceded that she can't call me a sissy girl anymore!"
"We had a fantastic experience," says Pera, who, along with Riordon and the 17 other members of their group, spent five days mixing cement, hauling rocks, shoveling dirt, and cutting rebar (reinforcement bars used in the cement).
The group of 19 was split into two, and each team worked on a house alongside family members of those being helped. Looking out for one another, everyone took turns doing the various jobs so that each person did a little bit of everything.
Pera says the ability to help others was what drew her and Riordon to the opportunity in the first place.
"To take a break from our life and our blessings and be able to help another person is a transforming experience that still makes me tear up," says Pera.
Pera and her sister are very close, and travel together often. After seeing a presentation at Forest City Community Church about the Habitat for Humanity opportunity, Pera and Riordon jumped at the chance.
"[My sister] just had this feeling that we were meant to go," says Pera. "Once we were signed up, we were so excited to share this together and to help others."
After 31 hours of travel that took the sisters from London to Toronto, Miami, La Paz, Santa Cruz, and finally Cochabamba, they finally arrived at their hotel where they were greeted with breathtaking views of the Andes Mountains.
They soon developed close friendships with the other volunteers in their group, and Pera says she has learned some life lessons from that team bond that she now endeavours to practice every day.
"The team work that developed was incredible. We were so kind and considerate to each other. We constantly worked as a team with real concern for each other and that inspires me to live that way here in my work, and with my friends and family."
The trip made Pera realize just how much access Canadians have to basic resources. She and Riordon were constantly impressed with how resourceful the people of Cochabamba were, using what they had available and making it work.
With five of their 10-day trip spent building houses, Pera and Riordon were also able to find time for a little sightseeing, and had an opportunity to visit a local orphanage.
"It was good to experience other positive work being done in the country," says Pera.
Knowing more about how Habitat for Humanity works, Pera says she would definitely do another build in another country. "I felt like I was at camp because we were so far from home having so much fun, even though we did a lot of heavy work!"