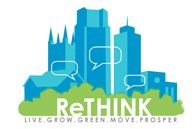 London Health Sciences Centre has a proud legacy of care in Canada's London, and is a strong supporter of the work of the ReThink London initiative and its outcome: The London Plan.
In 2012, LHSC staff and physicians were pleased to take part in the ReThink London initiative by hosting interactive feedback sessions at its hospital sites. Subsequently, LHSC ensured its people were kept up-to-date on the further opportunities for feedback as the city collectively worked toward a new vision for our city.
In 2014, LHSC was pleased to review and provide feedback to the resulting The London Plan, and in particular the "big ideas" around planning for a healthy city. LHSC's partnerships have long extended beyond the hospital walls as the organization works to improve the health of our community. LHSC believes that these connections in the communities it serves are critically important, and that by working together, we can effect meaningful change.
Overall, LHSC feels that the directional strategies of The London Plan, particularly as it pertains to planning for a healthy city, set the right path for London and is pleased with the general alignment it sees with its own planning. LHSC looks forward to a strong continued partnership as we work collaboratively to achieve this vision.