Annual LHSC staff United Way Campaign
The United Way is the largest non-government funder of social services in London and Elgin Middlesex County and is dedicated to making the greatest possible impact on three pressing issues: poverty, mental health and new beginnings and transitions. At LHSC we see first-hand how many of these issues impact our patients' health and well-being. We also see the difference that the right intervention can make in a patient's life.
London Health Sciences Centre is proud to partner with the United Way Elgin Middlesex, whose more than 75 funded agencies play a vital role in creating a healthier community – a goal that aligns seamlessly with our role as health care providers.
In 2017 LHSC staff and physicians succeeded in raising $153,821 for its annual LHSC United Way Campaign, directly helping those in need within our community.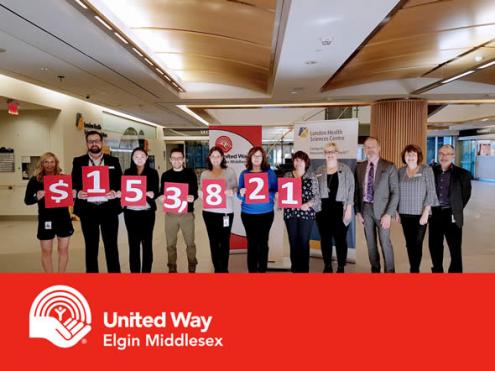 The LHSC United Way campaign theme is "Care Beyond Our Walls" – building on LHSC's proud legacy of providing care to our community that extends outside our hospital walls, and highlighting our continued commitment as a strong corporate citizen in our community.
Together, we are creating real and lasting change in people's lives throughout our community, just like we do each and every day for patients here at London Health Sciences Centre.
News and Updates:
Feb. 27, 2018 - LHSC announces United Way fundraising total
Feb. 3, 2017 - LHSC's 2016 United Way Campaign total demonstrates the generosity of LHSC's staff and physicians
Feb. 3, 2016 - LHSC's United Way Campaign continues growing core base of support while making a positive impact on community
Sept. 18, 2015 - LHSC proud to participate in United Way's London & Middlesex campaign launch
Feb. 3, 2015 - LHSC's United Way Campaign total builds on core growth of support
Oct. 6, 2014 - Care Beyond Our Walls: LHSC's 2014 United Way Campaign kicks off!
Sept 18, 2014 - LHSC participates in United Way's Harvest Lunch
Feb. 21, 2014 - LHSC exceeds United Way campaign goal for second year in a row
Oct. 2, 2013 - Care Beyond Our Walls: LHSC's 2013 United Way Campaign kicks off!
Sept. 23, 2013 - LHSC proud to participate in United Way's campaign launch
Feb. 14, 2013 - LHSC exceeds its goal in staff United Way Campaign
Nov. 5, 2012 - LHSC staff take part in annual United Way Stair Climb