October 25 update: 
As previously shared, LHSC's Temporary Care Partner Presence Policy is changing on November 1, 2021. Beginning on this date, all Care Partners presenting to LHSC will be required to show proof of full vaccination. Those without proof of vaccination will not be permitted to enter the hospital (exceptions are described below).  
The purpose of this policy change is to maintain patient, staff, and care partner safety. This is achieved by adding an additional layer of protection through vaccination with limited exposure to unvaccinated individuals in exceptional circumstances, promoting social distancing and enhanced safety measures where appropriate. LHSC worked with regional hospitals and patient/family advisors in the review/revision of this policy. Details of this policy can be found below.
We understand that limits to visitation are difficult for patients and families. Our top priority is keeping our most vulnerable patients safe, while also addressing patient care backlogs. High volumes and tight space make social distancing very difficult, which is distinctly different than other spaces, such as shopping malls. To provide as much patient care as we can, we must limit the number of people in our hospitals to those who need to be here the most. 
This policy does not apply to patients, and patients will not be denied care. If you need care, please seek it immediately. 
Who is a care partner or essential care partner?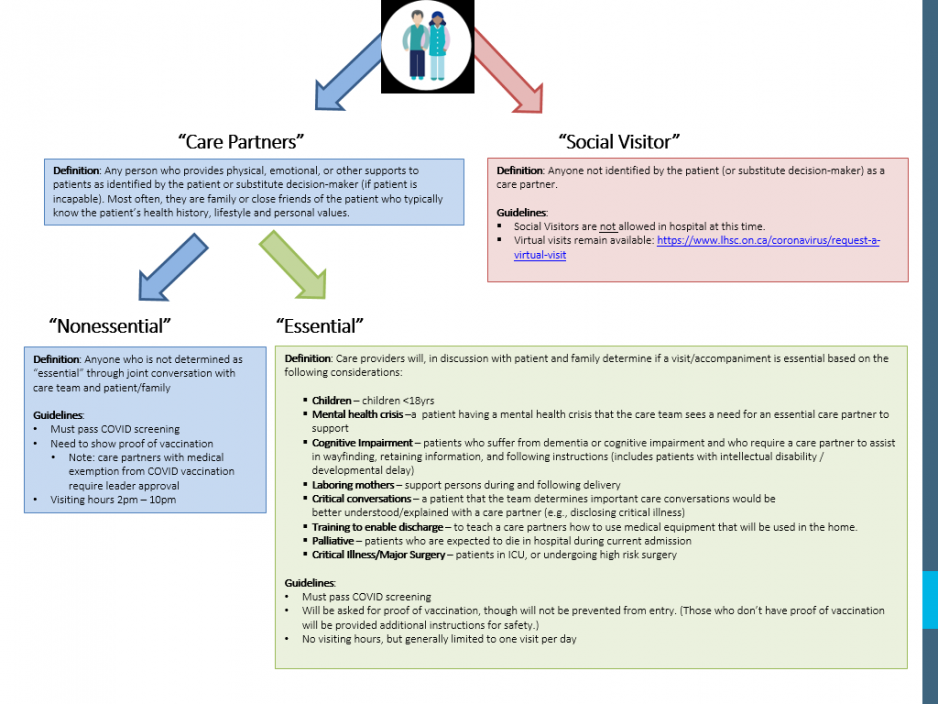 Patient Population
Essential Care Partners
(proof of vaccination preferred)
 
Non-Essential Care Partners 
(proof of vaccination required)
 
Children's Outpatient OR Emergency Department
One care partner permitted per visit
Not permitted at this time
Children's Inpatient
Two care partners permitted in hospital at one time
May register up to two additional care partners
Adult Outpatient OR Emergency Department
If it is determined that a care partner is essential, one care partner will be permitted to accompany the patient 
Not permitted at this time
Adult Inpatient
If it is determined that a care partner is essential, one care partner may be registered for daily visits 
May register a total of 4 care partners; Only one care partner permitted at a time; Two visits total per day; Limited to hours of 2-10pm 
Adult Inpatient (palliative)
The care team will discuss your unique situation and the number of care partners allowed; Two permitted in hospital at one time 
Not permitted at this time
Preparing for your visit
All care partners must be registered to enter the hospital. All requests for registration should be made to your health care team.  Confirm with your care team whether your care partner(s) have been registered as 'essential' or 'nonessential'. 
Self-screen for symptoms of COVID-19. Please self-screen for symptoms of COVID-19. If you fail screening, avoid coming to the hospital unless specifically directed by your care team. 
Proof of vaccination and identification. Be ready with your proof of COVID vaccination (14 days after your second dose) with photo identification. If you need help printing your proof, London Public Libraries can help you with this. To protect patients, staff, and visitors it is preferred that everyone be vaccinated but there are exceptions. Ask the care team before coming to visit. 
Arrival timing. Please prepare to arrive 30-45 minutes before a visit/appointment in order to be screened at the front door. Plan for the weather as there may be a line outside of the entrance doors. Care partners that are not essential can only visit between 2pm-10pm.
When you arrive at the hospital
Clean your hands (Remove Gloves). Please clean your hands using the hand sanitizer provided. If you are wearing gloves, you will be asked to remove them in order to clean your hands properly.
Proceed to a patient/visitor entrance for screening. You will be required to go through entrance screening upon arrival into the hospital. You will be screened for symptoms of COVID-19, recent travel outside of Canada, and close contact with people who have COVID-19. It is important that you answer all screening questions honestly for the safety of yourself and others. You will be asked to show proof of vaccination and photo identification. 
Put on a mask. Everyone entering LHSC must wear a mask at all times.* You will be given a mask by screening. Your mask should be fully covering your nose, mouth and chin at all times. Try to avoid adjusting your mask or touching your face while you are wearing your mask. Always wash your hands both before and after putting on or taking off your mask. Leave your mask on until you are outside of the hospital or back home. Visitors who have shown proof of vaccination may remove their mask in designated areas. Please ask the care team. 
*Please see patient and visitor masking guidelines for exemptions.
While you are inside the hospital
Proceed directly to a patient's room or appointment. You will need to go directly to your appointment or stay with the patient while you are inside LHSC. You may be directed to stay in a designated waiting area if you need to be separated during tests or treatments. We kindly ask that you not walk around the hospital or stay in public spaces (e.g. Cafeteria) to assist in maintaining physical distancing. 
Practice physical distancing. Follow directions from staff, wall signage and floor markers throughout the hospital. Pay close attention to some public spaces where physical distancing measures have been put in place such as only 3 people to an elevator and designated entrances/exits to use. 
 
Frequently Asked Questions
Can I visit if I have a negative COVID test? At this time, LHSC is not considering testing in application of its care partner presence policy. 
What evidence of vaccination will you accept?
Printed or electronic COVID Enhanced Certificate QR Code with photo ID https://covid19.ontariohealth.ca/ 
Printed or electronic COVID vaccine certificate with photo ID *care partners under the age of 18 can show non-photo ID 
Note: London Public Libraries are supporting individuals to look up and print out copies of vaccination records 
What is meant by 'full vaccination'? Care partners are only considered fully vaccinated if they have provided proof of having received 2 doses of an approved vaccine more than 14 days prior to the visit. 
Why do care partners require vaccination if all staff are already vaccinated? The current vaccination policy is in place to protect the health and safety of both staff and patients. LHSC cares for many vulnerable patients and the best way to ensure their protection from COVID-19 infection is to adhere to routine infection control practices, along with vaccination.