LHSC is proud to operate the Agriplex COVID-19 Vaccination Centre located at the Western Fair Agriplex, where eligible members of our region can receive their COVID-19 vaccine. We recognize that health care visits can be intimidating – especially when you are going to a place that may be unfamiliar. We are pleased to provide this overview of the Agriplex vaccination process that we hope will alleviate some anxiety before you visit the space.
A few notes to consider before you arrive:
Please arrive 10 minutes before your appointment to allow time for screening and registration.
When lining up for screening, please make sure you have your health card, you are wearing a mask, and maintaining the 2 m/6 ft. of physical distance between you and others. 
If possible, come alone to the appointment (however if you require a caregiver they are most welcomed). 
Wear a short-sleeved or easily accessible shirt so it's easier to administer the vaccine.
Once you receive your vaccine, please continue to follow public health guidelines around masking, physical distancing, and socializing.

The vaccine centre staff and volunteers at the Agriplex are wearing different coloured shirts with their roles noted on the back so they are easily identifiable. Red shirts are screeners or greeters, grey shirts are navigators (they are able to assist seniors and others with questions and concerns), purple shirts are registration staff, blue vests are volunteers, blue shirts are vaccinators, green shirts are pharmacy staff, and maroon shirts are leadership.
Screening

Emma Elliott, Screener
Entry control officers in red shirts will greet you as you enter the building and screen you for COVID-19 symptoms and recent travel history before informing you which line to enter for registration.

Black and red line markers before entering registration area
The red line is for seniors and patients with limited mobility.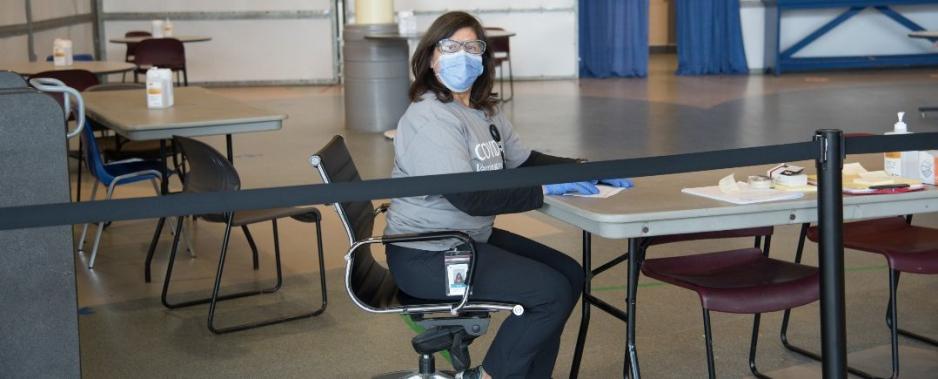 Norma Sanchez, Navigator – Senior Friendly
There is a navigator in a grey shirt available to assist seniors with questions, demographic forms, wayfinding, rescheduling an appointment, and if needed, escorting into the registration area.
Please arrive 10 minutes before your appointment to give time for screening and registration.
Registration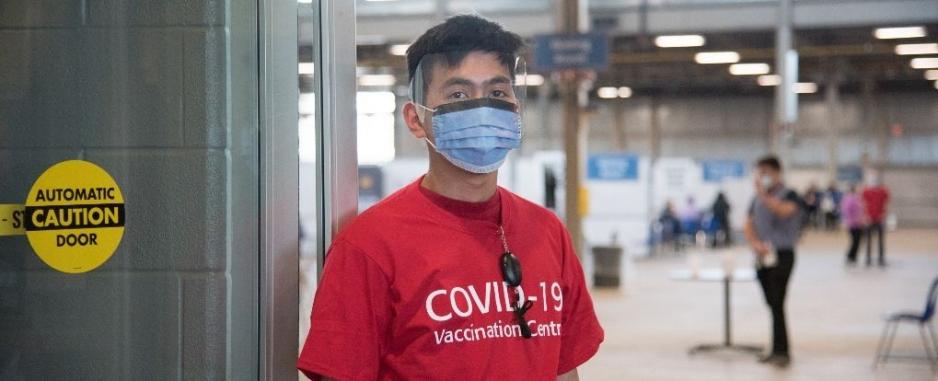 Vince Ybera, Greeter, before registration line
Another greeter in a red shirt is there to meet you and direct the flow of patients to an appropriate line for registration. This point in the process is the last opportunity to use the washroom until after check-out.

Tammy McDonald at registration desk
Patients can line up in any queue from 1-13 to register. Staff registering you will be wearing purple shirts and will validate your information, and provide the date for your second dose appointment. It is at this time that Indigenous patients should self-identify their Indigenous status so they can be directed to the Indigenous vaccination space. Patients will then be directed to the vaccination area.
Vaccinator Tables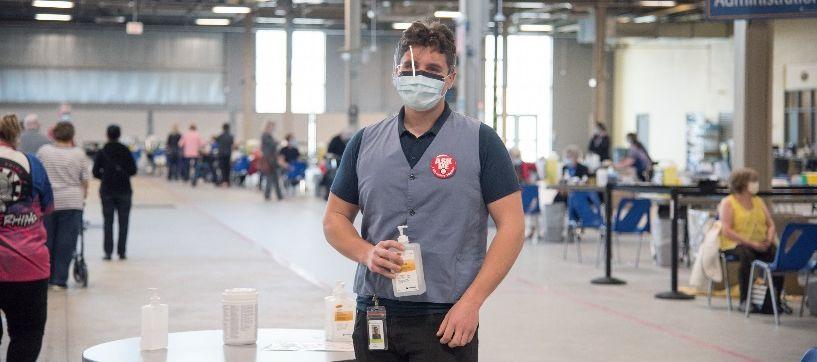 Ryan Hunter, Volunteer
Before entering the vaccination area, a volunteer will direct you to wash hands with hand sanitizer provided, and share a reminder there is no photography or video allowed. 

Daniel Hiemstra, Greeter
A final greeter directs you to the vaccinator tables where you will receive the vaccination. If the tables are full, the greeter will direct you to either wait in line or to sit in a designated, physically-distanced seating area until a station becomes available.
Betty Ann Wilson, Retired Nurse, Vaccinator
Vaccinators are LHSC nurses, nursing students, physicians, and nurse practitioners, and are wearing blue shirts. The vaccinator will ensure you are the correct patient through identification, review your health history with you, and input all relevant information into the special vaccination program database. After this, they will administer the vaccine and immediately email the receipt of your vaccination to the email you provide. If you need a print out, that can be picked up at check-out. Before you are directed to the recovery area, the vaccinator will ensure you are feeling well at that time and provide you with the 15-minute timeframe after which you which you will be allowed to exit.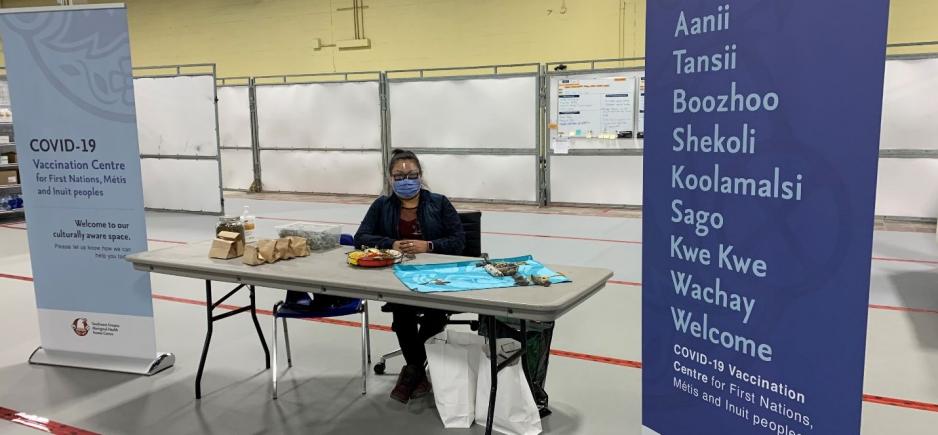 Indigenous Vaccination Space: Chanda Doxtator, Traditional Healing Liaison, SOAHAC.
If you are Indigenous, and self-identify as such as registration, you will be directed to the Indigenous Vaccination Space run in partnership with Southwest Ontario Aboriginal Health Access Centre (SOAHAC). The Indigenous vaccinator provides a safe and culturally sensitive environment for Indigenous patients and will also review your health history, double-check your identification to ensure you are the correct patient before administering the vaccine. After vaccination, and before heading to a recovery room, a traditional healer may be available to offer a traditional healing gift.
Recovery Rooms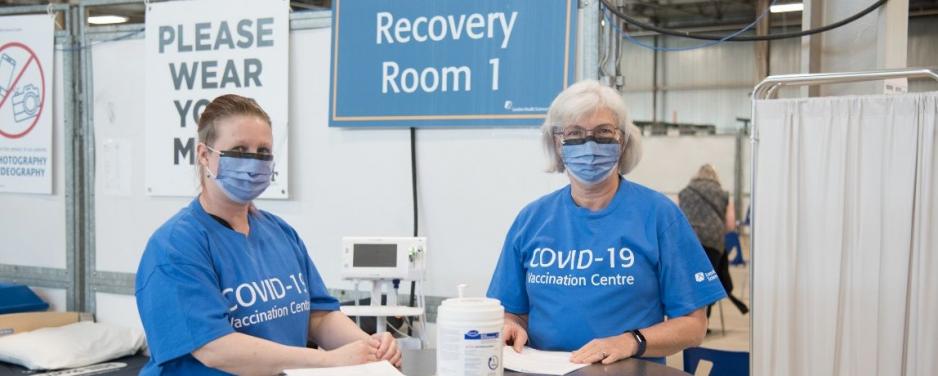 Recovery Room 1, with Candice Newton and Laurie Young.
Recovery Room 1 is available to seniors and those with limited mobility because it is closest to the vaccination tables and exit, there is an extra chair available for a caregiver. Recovery Rooms 2 and 3 are for the rest of the population and once your recovery period is over, you will be directed to the exit.
The Recovery Room nurses (also in blue shirts) will speak with you, informing where the clock is in the area so you can monitor the recovery time frame, and the nurses will monitor you for any symptoms and attend to you if you feel unwell. 
When it is safe for you to leave they will give you an after-care sheet that notes possible side effects to monitor for and things to remember after receiving the vaccine. If you have no issue with your second appointment date (given to you at registration) and you have your vaccine receipt emailed to you, please follow the path and the signage towards the exit.
Check-Out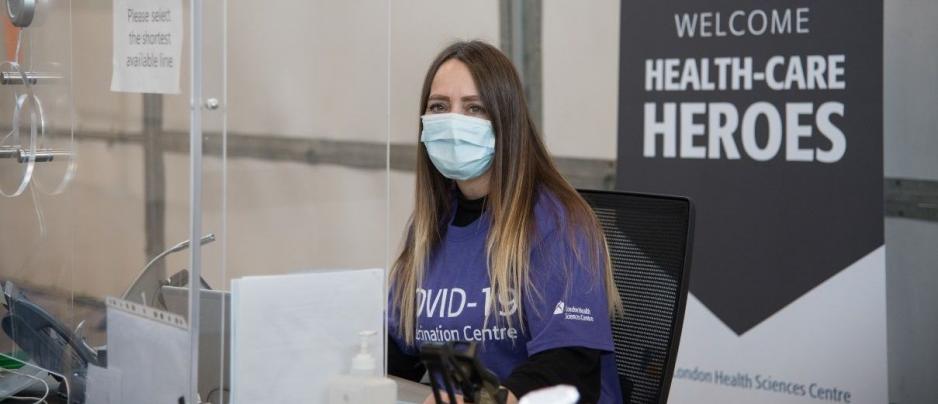 Check-out desk with Joanne Boyle
After you exit the recovery room, a volunteer will be available to answer questions and help direct you towards the check-out desk and/or exit.  If you cannot attend your second appointment date, or you were unable to get your vaccine that day, please go to the check-out desk and they can help you reschedule your appointment.  If you do not have email and wish a paper print-out of your vaccine receipt the clerk can provide this to you.
There is also a dedicated station for LHSC staff and physicians to report their vaccine before the exit.
As you exit, there are two  #GotMyShot  banners that you are welcome to take a selfie in front of to share on social media that you received the COVID-19 vaccine.
Before you exit, please note there is an accessible exit for those with limited mobility to the left, and the general exit is straight ahead and slightly to the right.