"Promoting informed choice by increasing awareness of the role of genetics and how it affects all areas of health and well being"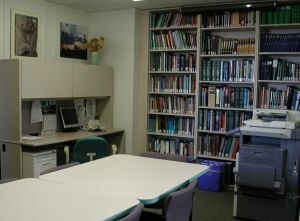 The Provincial IODE Genetics Resource Centre was established in London, Ontario in 1993 with the intention of co-ordinating and facilitating genetic education and providing Ontario families and professionals with current information about genetic conditions and available resources. A genetic support group directory was created as well as files of information appropriate for medical personnel and families for approximately 200 genetic disorders. Hundreds of information requests are made every year from a provincial, national and international arena. These requests come from parents, patients, students as well as medical personnel. The Resource Centre provides a research area for professionals and the community and the library houses the most up to date genetics literature and medical texts.
The Resource Centre and Library are open 8:30 a.m. - 4:30 p.m. Monday to Friday. Please call to arrange an appointment to visit the Resource Centre.
Provincial IODE Genetics Resource Centre is located at:

The Medical Genetics Program of Southwestern Ontario
London Health Sciences Centre
Victoria Hospital
Zone B, Level 5 (North Tower)
800 Commissioners Road East
London, Ontario
N6C 2V5
Telephone: 519-685-8453 Fax: 519-685-8214
For driving directions to Victoria Hospital and a detailed site map, please visit the corporate section for maps and directions.