Kid's Guide
This section of the website was designed for elementary school-aged children who are curious about organ and tissue transplantation. If you are a child who has had a transplant or needs a transplant, if you have a friend or a relative who has received a transplant, or you simply have an interest in transplants, this is the site for you.
Here you can read and learn about organ and tissue donation, the journey of a transplant patient, the personal story of a donor family, and particpate in some interactive transplant-related games.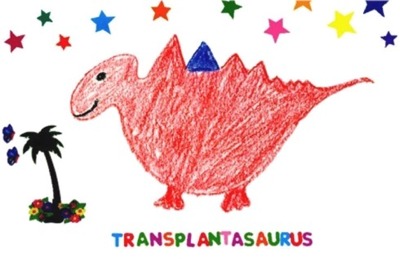 "Transplantasaurus" was drawn by one of our liver recipients when she was 7 years old. She chose to transplant one of the dinosaur's plates, representing the gift of life through donation.