The Multi-Organ Transplant Program (MOTP) employs a multi-disciplinary team of healthcare professionals to provide the best care for our transplant patients, families and visitors. The team is composed of specialized transplant healthcare professionals, many of whom work exclusively with MOTP.
Our multi-disciplinary team provides services to patients both pre- and post-transplantation: heart, kidney, kidney-pancreas, pancreas, and liver. The team applies a holistic approach to patient care, which enables our program to manage transplant cases efficiently and effectively. The development of MOTP is due in part to the contribution of our team members to program committees and research initiatives.
The Multi-Organ Transplant Program has previously received the Dean of Medicine's Team Award of Excellence, in recogniton of our contribution to patient care and research excellence over the past 30 years. Not only have thousands of patients been cared for and undergone successful transplant procedures, but the program's visionary approach and research contributions have led the way in Canada.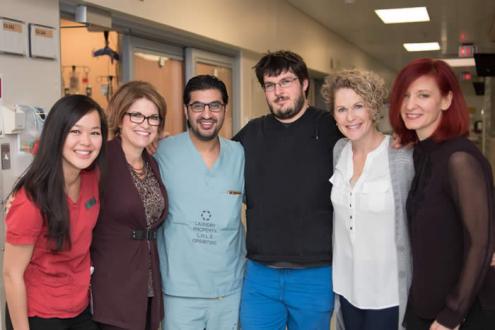 The team is composed of surgeons, nephrologists, hepatologists, cardiologists, registered nurses, clinical fellows, transplant donor specialists, transplant recipient coordinators, clinical educator, unit clerk, and many allied health professionals, including physiotherapist, dietitians, pharmacist, and social workers.