Congratulations to each of this year's nominees and recipients of the 2012 President's Award Program. Each of these extraordinary individuals embody the spirit of the awards and were all honoured at an awards ceremony held on June 7.
Frank Filice - Community Service
Pat Doyle-Pettypiece - Living Our Core Values: How We Work Together
Susan Collins - Living Our Core Values: How We Serve Our Patients
Karen Peters - Leadership
Susan Rosato - Innovation
Dr. Claudio Martin - Physician Leadership
"This year's President's Award recipients are a group of remarkable individuals who are truly making a positive difference within and beyond our hospital walls," says Bonnie Adamson, President and Chief Executive Officer at LHSC. "They are each helping to advance LHSC's vision of extraordinary experiences, exceptional people and engaging partnerships and I am honoured to recognize them."
To learn more about each of these deserving recipients, please visit the President's Award program website.
 Each winner's name also now appears on the perpetual plaques honouring award recipients, located in the President's Gallery at both Victoria and University hospitals.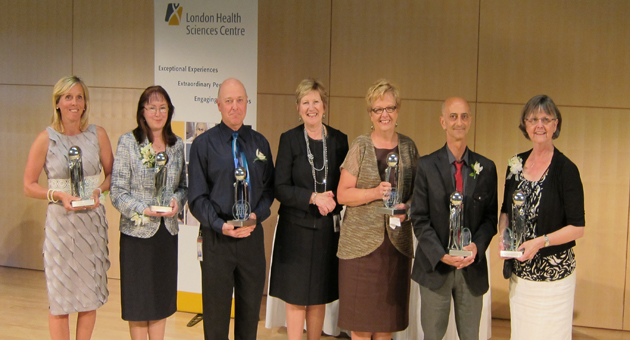 The 2012 President's Award recipients pose with LHSC President and CEO, Bonnie Adamson. (L-R) Susan Rosato, Pat Doyle-Pettypiece, Dr. Claudio Martin, Bonnie Adamson, Karen Peters, Frank Filice and Susan Collins.