January 18, 2015
There is a joke that one of the key performance indicators for Rebecca Parkes, Director of Talent Strategy and Development, is how many boxes of tissues people go through when they come to meet in her office.
As the 2015 recipient of the President's Award for Leadership, Parkes is known for asking challenging questions that encourage leaders—and those considering leadership—how they can dig deeper to gain better self-awareness and understanding.
"I fundamentally believe we can make this organization better by the work that we do on ourselves," says Parkes. With that mindset, Parkes has been the architect of an organizational strategy supporting the development of emotional intelligence (EI), learning agility and assertiveness at LHSC.
Parkes describes emotional intelligence as the skills and ability to be self-aware and self-managing. "In the past, that skill set is probably described as 'warm and fuzzy' soft skills. Research now shows that EI is the differentiator between good and great leaders," says Parkes.
Parkes has advocated for EI in LHSC's leadership competencies, as a minimum standard in leadership recruitment, and to be recognized as critical to change leadership skills. Leading by example, and through development sessions and coaching, she challenges others to step outside of their comfort zones to grow both personally and professionally (hence the tissues!). 
"Whether Rebecca is mentoring a new leader or holding someone accountable, her compassion always comes through," says nominator David McLean, Senior Consultant with LHSC's Talent Strategy and Development.
Parkes is known for challenging the status quo, including the long-held belief that leaders need to be clinical experts to lead a clinical area, advocating instead that leadership has its own transferrable skills and expertise. 
"It's important to identify other competencies and skills that are part of being effective leaders," says Parkes. "This ensures that we rely on front-line experts to bring the required clinical knowledge to decision-making, while the role of the leader is to facilitate, coach, and support those front-line experts."
As a strategic systems-thinker, Rebecca has helped to successfully cultivate partnerships with hospitals and agencies in southwestern Ontario to execute talent management beyond LHSC. By offering LHSC's development programs for leaders and emerging leaders, as well as support and consultancy to other hospitals in the region, LHSC is helping to build the capability of other hospitals for the future.
Parkes's award nomination was supported by more than by excerpts from more than 18 of her colleagues, including physicians, senior leaders, and a variety of staff members whose careers have been directly impacted by her mentorship, guidance and support. 
"Rebecca's impact can be seen in how she's helped cultivate an emotional intelligence strategy for staff and leaders, a talent management strategy that is innovative and cutting-edge in health-care, and how she's developed partnerships with other hospitals in the region to help them strengthen their own talent management. These are aspects of the legacy she will leave as a leader at LHSC," says McLean.
Her positive influence has impacted individuals, teams, the organization and the regional health-care system through her strategic and thoughtful dedication to make a difference in the lives of others—ultimately helping LHSC staff, physicians and leaders deliver efficient and effective health care to patients and their families.
"I do what I do because I am passionate about helping those in our organization unleash their potential and discover what's possible. My job is to be of service to these individuals, and so to receive an award for something I love to do is really icing on the cake, and I am very grateful.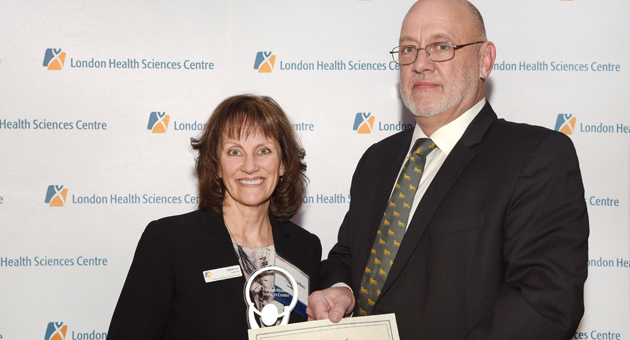 Rebecca Parkes, Director of Talent Strategy and Development, is the 2015 recipient of the President's Award for Leadership. On Dec. 11 she received her award from LHSC President and CEO Murray Glendining.