January 21, 2015

Patients in the Oncology Day Unit (ODU) know that they have an advocate, and ally, and supporter in unit clerk Agnus "Aggie" HopeSchneider at LHSC's London Regional Cancer Program (LRCP).
HopeSchneider has been an employee of LHSC for the past 16 years, including the last eight with the LRCP. As the 2015 recipient of the President's Award for Living Our Core Values – How We Serve Our Patients, she believes the heart of her role is to make the lives of LRCP patients just a little easier. 
"Patients are often overwhelmed with information by the time they come to my desk, so if I can make some accommodations to make things easier for them, that's what I'm here for," she says.
HopeSchneider greets all of the ODU patients by their name and often knows their family members or caregivers names as well. Her focus is always patient-oriented, and she has become a very reassuring and calming presence for patients in oncology who know that if they have any concerns with their appointment needs, they can easily speak to her and absolve their worries. 
Nominators described how HopeSchneider has been able to develop such strong connections with patients.
"Aggie is able to gain patient and family's trust through her willingness to listen to their concerns over bookings, appointment times, and treatments – which are often areas of high stress for our patients. She is accommodating and understanding of the needs of this unique patient group," wrote nominator Jennifer Knoll, RN at the LRCP.
HopeSchneider has built such a rapport with patients and their families that when she is away on holidays, they ask where she is and state how much they miss her. Her nominators describe how she fosters a safe and approachable atmosphere for patients, and is always very professional and consistent with her care.
"Aggie truly understands and empathizes with the many different situations our patients and their caregivers are facing and she is a wonderful resource and support to them," wrote Shelley Tubman, an RN who supported the nomination.
With a patient population who often visits the clinic once or twice a week, HopeSchneider says you develop a strong connection with each patient and their family or caregiver.
"Working with the patients is amazing; they feel like family." She also credits the amazing group of nurses that she says she is privileged to work alongside in caring for these patients.
"I am so overwhelmed by this award," says HopeSchneider. "I come to work and I do my job. That's what I'm here for: to be patient-focused and to make sure I'm a resource for nursing staff while they're taking care of patients. I'm so humbled that I would be chosen for this."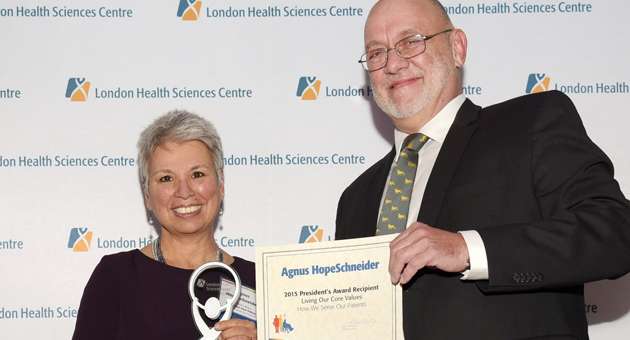 Agnus ("Aggie") HopeSchneider is the unit clerk in the Oncology Day Unit at LHSC's London Regional Cancer Program. Through her work as an advocate, ally, and supporter of patients she was recognized with the 2015 President's Award for Living Our Core Values – How We Serve Our Patients, by LHSC's President and CEO Murray Glendining.