January 28, 2016

Dr. Andrew House has many talents: skilled and compassionate physician, engaging leader, mentor, trusted colleague—all factors in his successful nomination for the 2015 President's Award for Physician Leadership. 
As Chair/Chief of the Division of Nephrology, Dr. House says he was drawn to the specialty of nephrology because it is truly unique in terms of the relationships one can develop with patients. 
"When we look after patients with kidney disease, we are there for them often for our entire career," he says. "Some patients we will look after from the time we start as nephrologists until we retire."
Dr. House notes that dialysis patients in particular – who often require multiple clinic visits every week – provide an opportunity to develop a physician-patient relationship unlike any other in the medical profession. "We have an extremely close relationship with these patients and their families and we get to know them better than in any other type of physician-patient encounter. I like the fact that I know not just my patients' health conditions but I understand their social circumstances; I know when their anniversaries and birthdays are. Together we celebrate milestones and mourn losses."
Described as a strong patient advocate and superb clinician, Dr. House regularly role models for his peers what it means to go the extra mile for a patient. His compassion for his colleagues and teammates also translates into tremendous compassion and empathy for his patients.  
"Even years after a patient has passed away, Dr. House maintains relationships with the family and even on the busiest of days he will find time to invite a family member who has stopped by into his office for conversation," wrote Julie Ann Lawrence, nurse practitioner in hemodialysis and Marlene Rees-Newton, renal care coordinator, in their nomination support letter.
Throughout his 17-year practice at LHSC, Dr. House has mentored the careers of several medical students, internal medicine residents, nephrology fellows and junior nephrology attending physicians. Dr. House has made the education program a priority during his tenure as chief, developing several teaching tools to educate a variety of learners ranging from medical students to ICU fellows. He is also viewed as a mentor to many physicians new to the hospital system and his expertise in teaching and learning have helped many achieve a number of successes in their own careers.
"Teaching and mentorship have always been an important part of my life," says Dr. House. "Both of my parents were school teachers, so I feel like it's in my DNA to try to pass on what I've learned others. And I pride myself in finding ways to make difficult material easier to understand."
In his nomination, Dr. House is described as exuding warmth and caring during interactions with all hospital staff, peers, patients and family members. Patients, students, and colleagues have a high degree of trust in Dr. House, knowing he will work tirelessly to ensure their experience is meaningful.
"I think you know you have a great leader when they're able to do two things. One is respond effectively to a calamity when it hits, but also to have the ability to see what's going to happen in the future and plan effectively. Dr. House embodies both of those aspects of leadership," says nominator Dr. Faisal Rehman, nephrologist and Site Chief for Internal Medicine at University Hospital. "Most importantly, he is a great physician to his patients and a tremendous role model for other physicians."
Upon receiving the President's Award for Physician Leadership, Dr. House says he was both surprised and grateful, and is quick to note that he shares the award with his entire team. "Nephrology has one of the most advanced and integrated teams of allied health professionals, nurses, administrators, technicians, physicians and trainees all working together to a singular purpose," he notes. "They make me look good!"
Ultimately, Dr. House says the most rewarding aspect of his job comes down the people – including his colleagues, patients, and their families. 
"They always make it an extremely rewarding and enriching environment. There's always a chance to learn something new, or to teach something. Our kidney disease patients are exceedingly vulnerable and scared, and I think our team does a lot to try to educate and empower them, taking some of that fear away. That's very gratifying."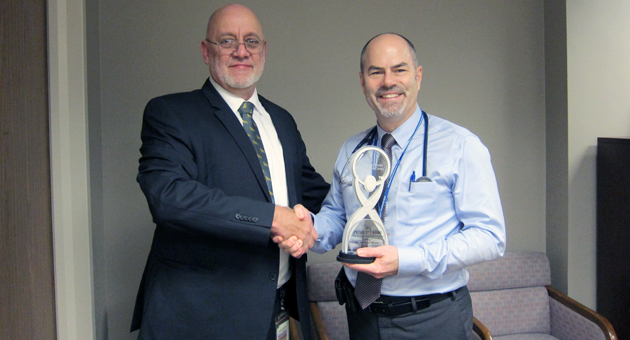 Dr. Andrew House (right), Chair/Chief of the Division of Nephrology, is the 2015 recipient of the President's Award for Physician Leadership. He received his award from LHSC President and CEO Murray Glendining before the event on Dec. 11.