December 15, 2017

At a special ceremony and reception on Dec. 8, LHSC's President and CEO Murray Glendining and Board Chair Ramona Robinson recognized 31 nominees and awarded seven individuals with a 2017 President's Award.
"LHSC is home to many remarkable staff, physicians and volunteers who are committed to improving the lives of our patients, our hospital, and our community," says Glendining. "I am honoured to offer my sincere congratulations to each of this year's President's Award nominees and recipients."
Now in its eleventh year, the President's Award Program at LHSC celebrates staff, physicians and volunteers in a number of categories. This year the following awards were presented: 
The President's Award for Community Service recognizes an individual at LHSC whose volunteer achievements have made a difference to the lives of people in our community. Darren Connolly is a family advisor in LHSC's Children's Hospital Paediatric Family Resource Centre, providing information, resources and guidance to patients, families and staff. He was recognized for his ongoing commitment and dedication to addressing inclusivity, accessibility and independence for individuals with disabilities in our community.
The President's Awards for Living Our Core Valuesrecognizes two individuals who consistently demonstrate LHSC's values of respect, trust and collaboration – one focused on how we work together and the other on how we serve our patients:

David Payne was nominated by his colleagues for demonstrating our core values in "How We Work Together." David is the Furniture and Equipment Specialist in Facilities Management. His nomination speaks to his commitment and passion for his role, and the respect he demonstrates to his colleagues.
Josie Swan-Merrison is a Therapeutic Recreation Specialist in the Prevention and Early Intervention program for Psychosis (PEPP). Recognized for demonstrating LHSC's core values in "How We Serve Our Patients," Josie is known for her commitment to the wellbeing and best interests of her patients and her efforts to dispel mental health stigma.

The President's Award for Leadership recognizes an individual at LHSC who demonstrates leadership capabilities that make a significant difference to the effectiveness of our organization. Sherri Lawson is the Director of Inpatient Mental Health. Sherri is highly regarded by her team and fellow leaders for her approach to leadership, which includes listening to others, being clear with her expectations, providing honest and constructive criticism, being accountable, and facilitating a positive work environment. Sherri also sees great value in using her skills to develop and support other leaders.
The President's Award for Innovation recognizes an individual or team who has demonstrated innovation capabilities that have made significant advances to the organization. Dr. Drew Thompson was recognized for his contributions to the introduction and development of the Point of Care Ultrasound (POCUS) Program to LHSC. Dr. Thompson is a physician in Emergency Medicine at LHSC.
Established to honour the leadership legacy of the late Dr. Murray Girotti, the President's Award for Physician Leadershipannually recognizes a physician who demonstrates the leadership qualities he exemplified. There were two recipients this year. 

Dr. Adam Dukelow, Chief of the Department of Emergency Medicine, is known to provide thorough, open and honest leadership while recognizing the value of each team member in addressing challenges. Dr. Dukelow has been a key supporter and leader of the ongoing Emergency Department System Transformation (EDST) project. This significant change to how care is provided and adapted to continuous departmental and patient needs has involved leadership and teamwork across the department, and has significantly improved ED metrics and patient satisfaction scores.
Dr. Ken Leslie, Chief of General Surgery, has been dedicated to ensuring the delivery of high-quality surgical care, with a deep understanding of the importance of maintaining a robust academic program and developing future leaders. He has initiated many quality improvement initiatives, such as the Rapid Standardized Operating Rooms (RAPSTOR) project which developed high efficiency operating rooms through case uniformity, efficient turnovers and equipment standardization. As a result, procedures have been streamlined in the OR, with a higher volume performed on a standard OR day at a lower cost.
Each winner received a stainless steel statue, and their names now appears on the perpetual plaques honouring located in the President's Gallery at Victoria and University hospitals.
To see more photos from the celebration, visit our Facebook album.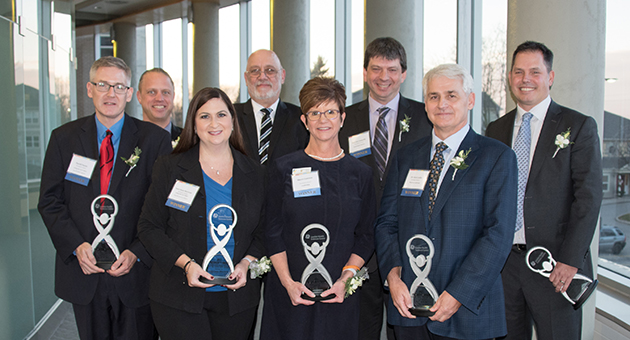 President and CEO Murray Glendining is joined by the recipients of the 2017 President's Awards: (back row, from left) Dr. Adam Dukelow (Physician Leadership), Darren Connolly (Community Service), Dr. Drew Thompson (Innovation), (bottom row, from left) David Payne (Living Our Core Values – How We Work Together), Josie Swan-Merrison (Living Our Core Values  - How We Serve Our Patients), Sherri Lawson (Leadership), Dr. Ken Leslie (Physician Leadership).