November 6, 2015
On Wednesday, 260 grade nine students took an inside look at a career in health care as they participated in Take Our Kids to Work Day at London Health Sciences Centre's Victoria and University Hospitals.
In addition to receiving career information, special tours, and shadowing their parents, students heard from guest speakers A.J. Fordham and Kathryn Field. Fordham, who was generously sponsored by the Kinsmen Club of Greater London, speaks on the subject of injury prevention as he shares his powerful story of overcoming a severe traumatic brain injury. 
Field shares her personal story of how a moment of distracted driving can change the lives of family and friends forever. Distracted Driving – Josh's Story recounts the loss of her son Josh in 2009 and the impact it has had on family and friends.  The Josh Field Support Network was established to promote distracted driving awareness, organ donor awareness, and provides care packages for families waiting for a gift of life organ donation operation. Distracted Driving  - Josh's Story is also an integral part of LHSC's Impact Program.
Take Our Kids to Work Day gives students a chance to explore future job prospects in health care, while giving LHSC staff the opportunity to showcase what they do and how it impacts the community. As an acute care teaching hospital, Take Our Kids to Work Day is an extension of our commitment to life-long learning and education.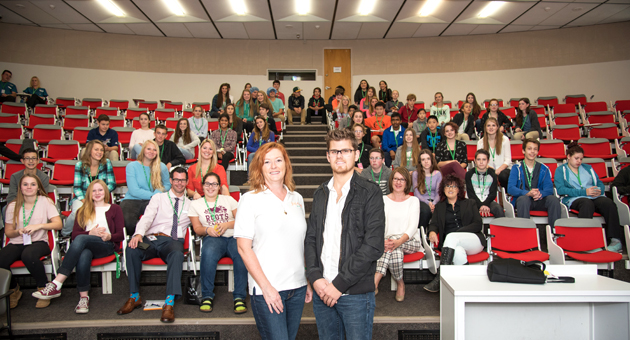 A.J. Fordham and Kathryn Field share their personal experiences at LHSC to grade nine students during Take Our Kids to Work Day.