February 17, 2015
For Leila Rahafrouz, a wife and mother from Milton, Ontario, catching the flu – a two week ordeal for most people – profoundly affected her life and found her spending a month in the Intensive Care Unit (ICU) at London Health Sciences Centre's (LHSC) University Hospital, a transfer to Victoria Hospital and more than 100 days in hospital.
"I was weak, feverish and dizzy and when I woke up I was London," says Rahafrouz. "I had no idea I was already there for a month."
Her health journey started this past March at Milton District Hospital's Emergency Department where her health team found a severe weakening of her heart in addition to confirming her suspicion of influenza.
Rahafrouz was then transferred to the Cardiac Care Centre at Trillium Health Partners' Credit Valley Hospital. There she was diagnosed with myocarditis – an infection causing severe weakening of the heart muscles. "In Leila's case, her influenza virus not only caused pneumonia, but also spread to heart, nearly killing her," says Dr. Dave Nagpal, cardiac surgeon, LHSC.
To survive, Rahafrouz required extracorporeal membrane oxygenation (ECMO). ECMO bypasses the heart and lungs to provide cardiac and respiratory support by oxygenating and propelling the blood. The machine is only available at select cardiac surgical hospitals and the nearest centre with an available ECMO was LHSC's University Hospital.
Patient transfer by air ambulance would have been ideal, but bad weather made air travel impossible. Rahafrouz would be transported to LHSC by the Peel Regional Paramedic Services, a doctor from Credit Valley Hospital, and Ornge Paramedics.
"Leila's story is remarkable because very early in her journey she went into cardiac arrest. Through CPR, the paramedics took over her heart and lung function and kept her alive for almost the entire two hour trip. Thanks to their efforts she arrived at LHSC alive," explains Dr. Nagpal.
Once at University Hospital, Rahafrouz was able to begin her journey of recovery. Fortunately, she was aided by her supportive husband who would make very frequent trips from Milton to London and her mother who travelled from Iran to take care of her son. "I am also grateful to London Guest House, who generously gave my family accommodation in London on nights they stayed in London," she says.  
"While connected to ECMO, Rahafrouz was bed ridden the entire time. The entire critical care team was instrumental to avoid further complications of her illness, as we focused on nursing care, her nutrition, and mobilization," says Dr. Nagpal. After a month she was transferred to LHSC's Victoria Hospital under the care of thoracic surgery to treat an infection surrounding her lung, where she continued to regain organ function and strength.
She was finally discharged after more than 100 days in hospital. "I was so happy to go home, and so grateful to everyone for the care they gave me," says Rahafrouz.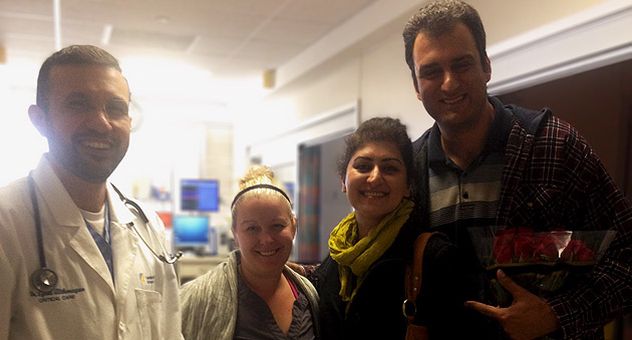 "Leila was saved because of the efforts of everyone involved in the entire continuum of her care," says Dr. Nagpal. "We are now approaching the process of developing a formal ECMO transport program, which would help save the lives of people in these unfortunate extreme near-death situations.  Leila's story highlights the importance of getting your flu shot, and, in the meantime, thank your lucky stars the flu doesn't infect your heart!"
Well on her way to a full recovery, Rahafrouz made special visits to all those involved in her care, in Milton, Mississauga, and London. "I wanted them to see me healthy and doing well. I wanted them to see what a difference they made in my life," says Rahafrouz.