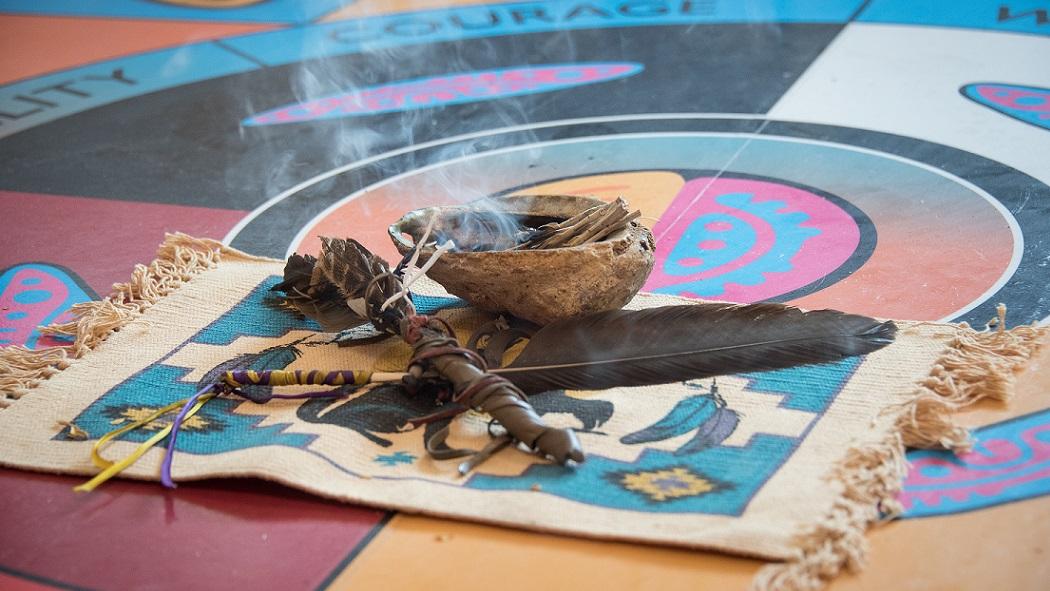 June 30, 2021
In honour of Indigenous Solidarity Day on Monday, June 21st, the Indigenous Health Circle at London Health Sciences Centre (LHSC) – comprised of Indigenous physicians, social workers, nurses and staff members – participated in a ceremony at Victoria Hospital to begin a journey towards reclaiming a true partnership of traditional wellness in a non-traditional space.
"The ceremony was a chance for Indigenous health-care providers and staff members to cleanse themselves of past traumas and cleanse the land of mistreatment Indigenous communities have experienced," says Dylan White, LHSC Indigenous Healing Services Advisor. "It also represented an organizational commitment to reconciliation – a promise to do better by partnering with local Indigenous communities to listen to their concerns, develop culturally safe and culturally sensitive services, and work together towards Indigenous health equity."
The ceremony started in the Indigenous Healing Space at Victoria Hospital. Developed in partnership with Atlohsa Family Healing Services, this physical space offers Indigenous patients and families access to traditional health practices, ceremony and traditional teachings, and supports as part of their health-care journey. Beginning the ceremony in this space was an acknowledgement of the importance of continued work to improve Indigenous health equity and access to culturally safe care.
White was joined in the Indigenous Healing Space by Jackie Schleifer Taylor (LHSC Interim President and CEO), Murray Doucette (LHSC Vice President, People & Culture), Bill Hill (Project Lead for the Indigenous Healing Space and Project Lead for Biigajiiskaan at St. Joseph's Health Care London's Parkwood Institute), and Joe Antone (Clinical Lead for Biigajiiskaan at Parkwood Institute). Together, they willfully participated in ceremony and connected on a personal level before joining the rest of the Indigenous Health Circle team on the grounds of Victoria Hospital.
Schleifer Taylor carried the lit smudge offered to her in the Indigenous Healing Space through the halls of Victoria Hospital before joining the rest of the Indigenous Health Circle outside. She then handed the smudge to White in the presence of the Indigenous Health Circle, exemplifying the importance of these Indigenous health-care providers leading the movement to more equitable health care for Indigenous peoples within the walls of LHSC. White offered smudge to all of the Indigenous Health Circle members in attendance.
"This moment symbolized that we have to be in this work together and that we have only begun. It was also a moment for members of the Indigenous Health Circle, who will be leading this work, to start their own cleansing journey of the mistreatment they have experienced within the health-care system," notes White. "It has been a significant task to educate non-Indigenous professionals about past traumas, barriers in health care, and why we need Indigenous leaders in roles that influence positive change for the health care of our people."
The group then walked around the perimeter of the hospital.
"We prayed for the people before us who couldn't experience a more culturally safe and equitable health-care system. We prayed for all the children that participated in residential schools, the people impacted by the 60's scoop, and the Indigenous peoples that were not given proper care in Indian Hospitals. We prayed for those still impacted intergenerationally and the revitalization of this beautiful culture, and committed to this work of rebuilding trust in our communities," says White. "It was an emotional ceremony, but one that left me feeling a huge weight lifted off my shoulders."
The day represented an important step forward.
"The Two Row Wampum Treaty was the original treaty document; this is an agreement that outlines a mutual commitment to peace between peoples, living in parallel forever, side-by-side together. We need to honour that treaty in our practices here," notes White. "We can only achieve Indigenous health equity by working together and regaining the trust of Indigenous communities. The ceremony represented an unsaid promise to do that."
Schleifer Taylor was honoured to participate in the day, representing LHSC and the organization's commitment to reconciliation.
"To be invited by our Indigenous Health Circle to participate in such a meaningful ceremony was a privilege," says Schleifer Taylor. "At LHSC, we are committed to listening to Indigenous communities, partners, patients, staff members and physicians, and we will work to take positive action towards reconciliation and Indigenous health equity."