October 14, 2015

As a medical radiation therapist, Maria Moore sees daily the toll cancer takes – physically and emotionally – on those who come for care at the London Regional Cancer Program at London Health Sciences Centre. But it didn't prepare her for own diagnosis. If anything, it made the cruel blow even more crushing.
A mom of three young boys, Maria was 42 when a mammogram in May 2012 found highly suspicious signs of cancer in her left breast and local lymph nodes. "There were multiple areas throughout the whole breast, 'too many to count' were their words," she recalls. The mammogram at the Norton and Lucille Wolf Breast Care Centre at St. Joseph's Hospital was followed by an ultrasound, a biopsy and a meeting with a surgeon – all on the same day. 
"I went home devastated. I thought I was dying."
The next day, Maria returned to work feeling hopeless, well aware of the danger of the cancer spreading further, today or in the future. Reeling, Maria grasped onto to her faith and the support of many around her "because it felt like my ship was sinking."
In time, her fear would ease and the ironic twist of fate would give Maria an extra special touch with patients – care delivered with a calming dose of hope when needed. But it would take about two years to get there.
After her diagnosis, Maria quickly began chemotherapy, followed by a mastectomy in November 2012 and then radiation. While each step of the breast cancer treatment is challenging, Maria found the radiation treatment the most psychologically difficult.
"It was the emotional stress of having my friends treat me. It was tough to come in everyday and be the patient left in the room. I've spent the last 21 years working at the clinic delivering radiation, not receiving it. It was surreal."
From start, Maria was informed about her breast reconstruction options and knew it was want she wanted. In September 2014, she underwent reconstruction of her left breast. At the same time, surgeons removed her right breast – a decision Maria made as a preventative measure. A third surgery to reconstruct her right breast was performed in May 2015. 
"I'm fortunate to have been offered the reconstruction right away and know that it was an option, she says. "After the mastectomy the prosthetic made me feel self-conscious. It was heavy, cumbersome and inconvenient.  It feels now like I'm normal again – like I don't have as much to hide." 
For Maria, the worry that the cancer will return never goes away – her job and her patients are a constant reminder of what could be. Yet she is also grateful for the depth of understanding she now has as a care provider.
"I've been given a totally different level of compassion because I know what it's like to be scared that you may be dying. I understand what they are going through. I've been there and I rose out of the depths of darkness, and I'm okay."
There's often a concern by health care providers about giving false hope, says Maria, but everyone needs hope regardless of the circumstances. "Without hope you lose yourself.  You can't get out of bed. You give up."
If she feels it would benefit the patient, Maria tells them her story.
"If someone is having a rough time with the hair loss or the chemo or with the radiation I'm selective but I will tell them if I feel it will help them. But it's not about me at that moment.  My hope is that they see themselves in me later on – happy and healthy. They can see that there is life after all this horribleness, and it's a good life. I'm thankful I can offer them that."
Is breast reconstruction right for you?
On Oct. 21, anyone who has been touched by breast cancer or wants information about breast reconstruction after a mastectomy is invited Breast Reconstruction Awareness (BRA) Day, an informative evening that allows women to:
learn about reconstruction options directly from plastic surgeons

hear from women who have undergone the surgery

view real results first hand in the women's only 'show and tell lounge'

discover the "Circle of Sharing", a unique support group that helps women who have

 

undergone breast reconstruction reclaim wholeness
Presented jointly by St. Joseph's and London Health Sciences Centre, BRA Day is a national campaign to promote education, awareness and access for women who may wish to consider post-mastectomy breast reconstruction. It will be held in the Shuttleworth Auditorium at St. Joseph's from 7 to 9 pm.
BRA Day is free but registration is required. Online registration is available at www.sjhc.london.on.ca/breastcare/bra-day-2015-registration
Read more about BRA Day and breast reconstruction.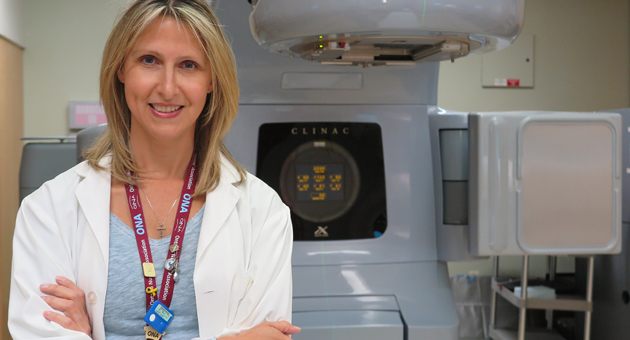 Maria Moore, a medical radiation therapist at London Regional Cancer Program, now has a new depth of understanding as a care provider. She was diagnosed with breast cancer in 2012.  She will share her story at Breast Reconstruction Awareness Day on Oct. 21.