April 13, 2016
April 10 to April 16, 2016 is National Volunteer Week and the recognition is well deserved for the nearly 900 individuals who donate their time to help others at London Health Sciences Centre (LHSC). Each year, LHSC's Volunteer Services holds an appreciate event where all volunteers are thanked for their work and those who volunteer for five or more years are recognized with a Long Service Award.
Volunteering can be an individual endeavor, but many couples enjoy volunteering due to a shared sense of purpose in helping others.
Joanne and Jack Mawdsley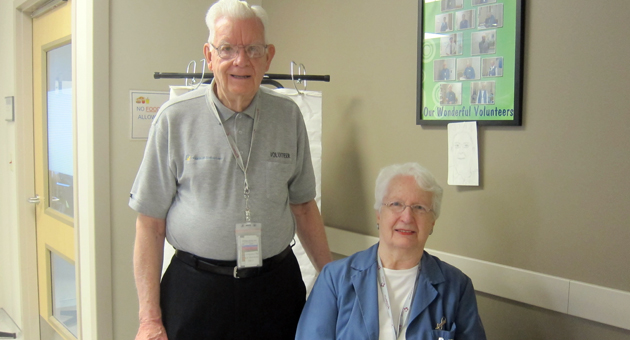 Joanne and Jack have been volunteering at University Hospital since 2001 and will be recognized for 15 years of service during National Volunteer Week. Both currently volunteer at University Hospital's Lab Test Centre and alternate their volunteer shifts every week. Inspired by a friend's illness, they began their volunteer career together – registering patients and recording in the lab. Jack also spent time as a volunteer in transcription services. 
"It's a strange environment for patients and we can quickly spot the ones who need assistance as soon as they exit the elevator," says Joanne. "In the Lab Test Centre, we assist patients, and by doing so, we are also helping the staff." 
"We continue to volunteer because we enjoy it," adds Jack. "We always make sure one of us is available for our shift."
Joanne and Jack also encouraged her brother Ross and his wife Marlene to volunteer when they returned to London after 40 years in Ottawa. "Remembered my brother volunteered at University Hospital near the time it opened and I wanted to share our positive experience with them," she explains. 
Marlene Wyatt and Ross Hodgins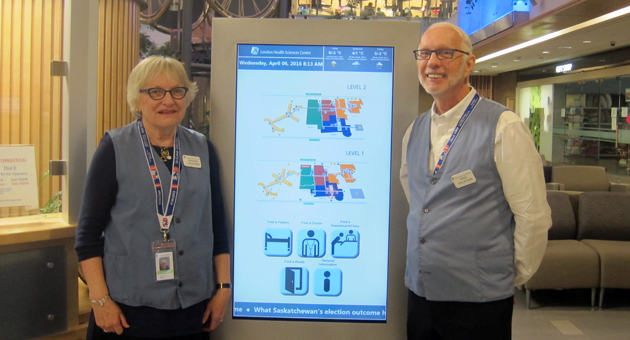 Marlene and Ross took Joanne's advice; perhaps an easy sell considering Ross' previous experience and Marlene's past work experience in paediatric healthcare at Children's Hospital. "I was a student volunteer after UH opened and remember when Volunteer Services was setting up a program," reminisces Ross. 40 years later, Ross helps others navigate the hospital as a guide at Victoria Hospital. 
Marlene volunteers in the Orthopaedic Outpatient Clinic at Victoria Hospital. "I enjoy connecting with children. Ross and I are hockey fans and we always wear our World Junior Championship lanyards during our shifts. They help break the ice, especially with children who have hockey related injuries."
Both enjoy how active they are during their time volunteering and are people oriented. "I am surprised how grateful people are when you help them. I've had people come back to me after their appointments, hug me and share their good news," says Ross. 
"As volunteers we see the best of our health care system. We meet patients who are treated by dedicated and knowledgeable staff from the entire region," adds Marlene. "It is rewarding to feel part of something that makes a difference in the lives of others."