April 21, 2017

Growing up in the same town, Josh Wagler and Tori Smythe knew of each other through sports, church and mutual friends. In high school, they ended up riding the same bus and becoming friends. It wasn't until many years later that they would start dating and it would only be six short months after that when they would learn that Josh's kidneys were failing.
When Josh was 15 years old he was diagnosed with Alport Sydrome and knew he was likely to eventually reach kidney failure during his forties or fifties. So it was a great surprise when his kidney function started to begin declining in his early twenties. 
"When I went from yearly monitoring, to every six months, to three, to every two weeks, I knew something was seriously wrong," says Josh Wagler. "I started dialysis in January and we started to consider all of the possible options."
Those options included kidney donation from either a live or deceased donor, or to simply just continue dialysis. Having never heard of living donation before, Josh was surprised to learn that would be an option. He began the process of finding a live donor, but found the task of having those conversations incredibly daunting.
"Lots of people asked what they could do to find out if they were a match for live donation, but for me, it felt like a really difficult thing to ask for, so my first instinct was to tell them they didn't need to do anything," says Josh. "Luckily through encouragement from my family and the incredible support from the team at LHSC's Transplant Unit, I realized those who loved me wanted to help if they could and I got a little more comfortable with each conversation I had."
A number of family and friends began the testing process to determine if they would be a match. At each stage of the testing, education about living with one kidney and the donor process was provided and people began to be weeded out for various reasons, including blood type incompatibility and general health. At the end of the testing, the person who happened to be the best match turned out to be his girlfriend, Tori.
"I knew from the first minute that I was going to be a match," says Tori Smythe. "I didn't even know my blood type at the time, but somehow I just knew. When I got the call that I was a match, I just started crying because I was so happy."
To surprise Josh with the news, Tori opted to put together a slideshow of recent pictures of the two of them and the message "I'm a match" at the end of it.
"I had no words at that moment, I just had so many emotions – it was really just an unbelievable moment. We were both so excited and relieved to be able to share the news with our families and friends," says Josh.
With their successful respective surgeries nearly two months behind them now, they are each healthy, happy and looking forward to whatever the future holds. 
"I don't think I realized how sick I was before the surgery because the decline was so slow it just seemed like a new normal," says Josh. "It is not an understatement to say that the transplant completely changed my life. I feel like I can live the way I did before I got sick – I don't have to be on a fluid restriction diet, or go to dialysis three times a week. I feel like I have my future back and really look forward to reaching my life goals."
For Tori, the lasting impact has been similarly striking. She adds, "I may have given Josh the gift of a kidney, but in turn, I now have the gift of witnessing the amount of change I can bring to another person. It's given me a first-hand perspective on the life-changing magnitude of organ donation."
While not everyone will have the chance to change a life through live organ donation, everyone has the potential to save up to eight lives by registering their consent as a donor. Throughout April all Ontarians are encouraged to find out more about organ and tissue donation and to also register their consent as a donor. This year, we are encouraging Ontarians to check their registration status – about 15% mistakenly believe they are registered when, in fact, they are not.  
Registering as a donor or checking your status is easy. Look on the back of your photo health card for the word "donor" or check online at LHSC's BeADonor. You just need your health card number and two minutes to check!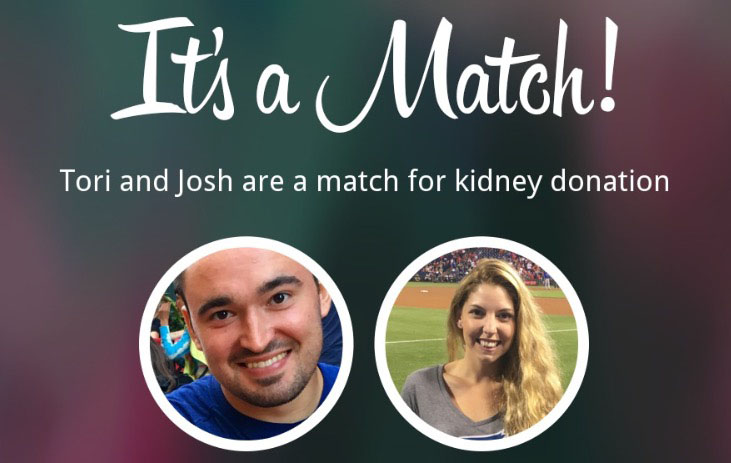 Josh Wagler and Tori Smythe share their experience with living organ donation