November 9, 2012
Joanna Gibson was in her 19th week of pregnancy when she was diagnosed with Hodgkin's lymphoma, marking the start of what would be a journey of learning not only for the 24-year-old, but also for her family and the healthcare workers who were involved in her care.
Gibson was faced with a challenge many of us can't imagine. A tumour around her airway was causing swallowing and even breathing to become difficult.  Treatment couldn't wait until little Quinlan was at full gestation. She needed to start chemotherapy immediately.
"I wondered if this was it. If my life was about to end", says Gibson. "It was a difficult time – it almost felt like time stood still."
Gibson received three rounds of chemotherapy before being induced five weeks early. After consultation with her Hematologist, Dr. Ian Chin-Yee, LHSC pharmacists and Lactation Consultant Michelle Angelini, it was determined that her next round of chemotherapy would be held for an extra few weeks to allow Gibson to nurse her baby safely – something that was a priority for Gibson and her husband Collin.
After resuming her chemotherapy treatments, Gibson chose to provide samples of her breast milk pre and post-treatment for testing and research, in the hope that researchers can determine definitively whether or not it is safe for women undergoing chemo to breastfeed their newborns.  She also committed to pumping her breast milk throughout this process, so that once her therapy is complete, she will be able to resume normal breastfeeding of her son - no small feat, given the fatigue and weakness that come along with each treatment.
That effort will soon all be worth it, as Gibson's treatments have just ended, and the wait for the medications to leave her system has begun.
Says Gibson, "I know that breast milk is the best thing for him, and I plan on nursing him for as long as he needs it. I consider breastfeeding a child to be first class care, and that's exactly what Quinlan deserves".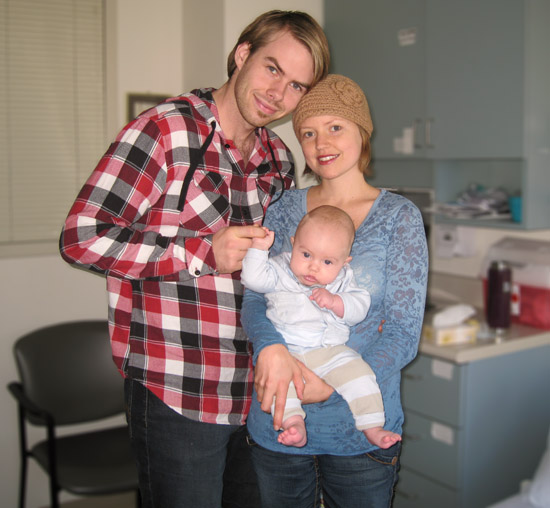 Collin Gibson and Joanna Gibson with baby Quinlan.