April 11, 2017

For Andy Moncrieff, raising public awareness during BeADonor month is a personal priority, because he has experienced first-hand the life-saving difference that organ donation can make.
"There is no doubt that I didn't have much time left had I not received a new liver," says Andy Moncrieff. "Organ donation was a truly a life-saving gift for me, and I'll be forever grateful to the donor and their family for the selfless gift of time that I've been given."  
What began as mild, but unusual, symptoms on Father's Day in 2015 became a year of a steady health decline. After consulting his family physician for feelings of lethargy, fullness, bloating and noticeable excess weight in his abdomen, Andy was sent to the emergency department. It was there that he was diagnosed with cirrhosis, a liver disease. 
Andy spent the next year trying to lead a healthy lifestyle – no alcohol, lower salt, losing weight – and taking medicine that would help his liver eliminate the ammonia that it was unable to process completely. But by June of 2016, his medicine was no longer working effectively and fluid was again building up in his abdomen and lungs. He began to feel like his lungs were drowning, and following a terrible confusion episode from the high levels of ammonia in his body, the possibility of a transplant was discussed. 
"I underwent a battery of tests – endoscopy, ultrasound, CT, MRI, etc. – to see if I would qualify to get on the list," recalls Andy. "A few weeks later, I learned I had. It happened pretty quickly, so that was a sobering reality check for me about the shape I was in."
Andy had been told the wait for a new liver could be a month, or it could be a year, as it depended on a number of factors including blood type and organ size. He tried to stay positive and focus on building strength through physiotherapy so he would be ready for the surgery whenever the call came, but his health continued to seriously deteriorate throughout July and he needed to be hospitalized for care.
In early August, a nurse came into his room and told him there was a liver for him and he was prepped for surgery while the team went to retrieve the organ. The transplant surgery took place at LHSC's University Hospital  the next day.
"As soon as I had the new liver, it was a night and day difference," says Andy. "Despite having just had major surgery, I immediately felt so much better and had more clarity and consciousness of what was happening than I had in a long while."
While Andy is continuing with physiotherapy, he was able to return to work this month; and with April being BeADonor month, it was especially bittersweet. 
"I feel like it's a miracle to have my life back," says Andy. "A large part of that is a testament to the transplant team at LHSC – everyone from the doctors, to the nurses, to the support staff, was incredible – but another huge part is due to the generosity of the donor and to their family for honouring their wishes."
For Andy, receiving a gift of life comes with a duty to show people the importance of donation and the impact it can have for those who are waiting. As such, he's become an active member of the local transplant community and has been a supporting force behind  a number of community-based awareness events this month, including a special donor night at the April 15 London Lightning game against their archrival, the Windsor Express, and the upcoming Transplant Trot 5K race on April 29.
Andy adds, "I encourage everyone to complete the BeADonor form, and to also let your family know your wishes."
Throughout April all Ontarians are encouraged to find out more about organ and tissue donation and register their consent as a donor.  This year, we are encouraging Ontarians to check their registration status – about 15% mistakenly believe they are registered when, in fact, they are not.  
Registering as a donor or checking your status is easy. Look on the back of your photo health card for the word "donor" or check online at LHSC's BeADonor. You just need your health card number and two minutes to check!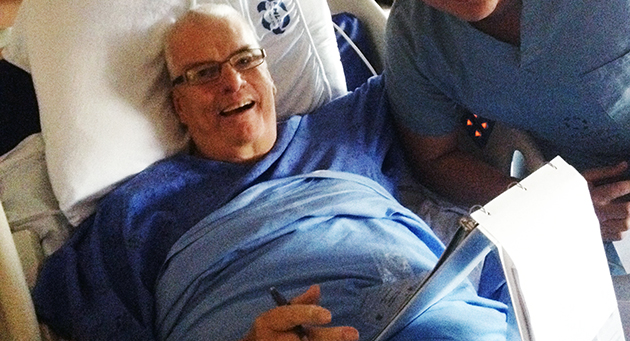 Andy Moncrieff is committed to raising public awareness during BeADonor month because he knows the life-saving difference that organ donation can make.