LHSC staff helps Sunshine Foundation make dreams come true for kids
November 22, 2013
Some London Health Sciences Centre staff had a very early wake-up call recently, but it was one no one was complaining about – after all, they were about to make the dreams of 80 children a reality as they set out on The Sunshine Foundation of Canada's DreamLift to Disney World.
Arriving at the London International Airport for a 4am check-in, dozens of staff from LHSC staff greeted the children they would accompany on this one-day whirlwind trip to the Magic Kingdom. The children all face severe physical disabilities or life-threatening illnesses, and were matched with health care buddies based on their individual needs. Several groups were also matched with a member of the London Police Service, along to provide physical support to kids requiring assistance.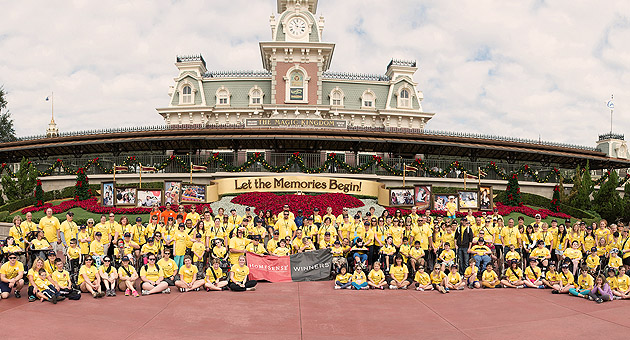 The health care buddies – all of whom volunteered their time for this trip -  were encouraged to say 'yes' to their young charges as often as possible. Ice cream for breakfast was not off limits; multiple trips on the same ride were just fine; and shopping for Disney swag was not only allowed, it was encouraged.
One of the LHSC participants, Dr. Rod Lim, went along as a member of the medical team assembled to handle any emergencies which might pop up throughout the day. "It was such a great pleasure and honor to accompany eighty brave children on their dreams.   Their love of life, eternal optimism in the face of adversity, and gratitude should shine as an example for all of us of what really matters in life", said Dr. Lim.
"To see so many children, who have never been away from their parents, never been on a plane: to see them trust those amazing volunteers to allow them to just enjoy life, care free... the day created changes in all of us:  it filled our hearts, made us all smile, and made the children so much stronger and independent".
Social Worker Cindy Milne-Wren was moved by her experience on the DreamLift: "It was great to have spent time with our patients as children and to come to know them as individuals independent of their illness.  It served to reinforce that they are so much more that the illnesses that have brought them to us."
Said Milne-Wren, "A couple of my favorite moments included observing a young patient gasp with excitement when she learned that she had gotten a stamp from US Immigration in her passport, and watching another child with physical disabilities somehow propel himself speedily - albeit safely - to the front of the bus (from the middle section) before anyone else was able to even stand up, because the bus had stopped and we had arrived at the Disney parking lot!"
LHSC physician April Price was also on the trip and shares her thoughts: "It was one of those days that restores your commitment to your field of work, because I am again reminded how privileged I am to be able to do what I do.  We see these kids for 30-60 minutes at a time, and only get a snapshot of them in the context of their medical challenges, but to see them being kids experiencing the magic of Disney, many for the first time, was eye-opening."
"Being part of the DreamLift, I was able to experience a day full of joy and unexpected moments that filled my chest and brought tears to my eyes - a day to remember why we chose to work in paediatrics in the first place. Those moments in life are rare and fleeting, but their residual effects will continue to shape the way I "see" my patients and their caregivers for more than just their list of diagnoses.  The magic of Disney lives on - a little piece came back with each of the kids on that plane - and it spilled over to all of us that were fortunate enough to share in their day."
Added Milne-Wren, "what a wonderful experience it must be for these children to have had an adventure uniquely theirs to tell their families about.  For their families, these accomplishments will have potentially brought them increased hope for the child's future and his/her capacity to function in the world. "
Thank you to everyone who helped make dreams come true that day – you exemplify the spirit and heart of LHSC.