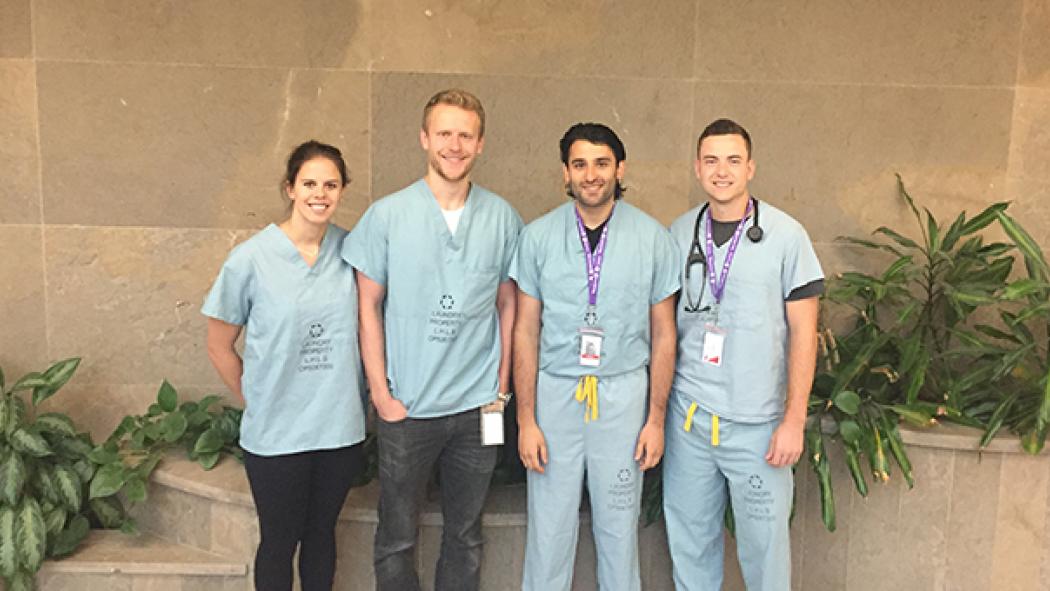 Emergency Medicine's post-graduate year one residents, L-R: Sydney Todorovich, Rob Soegtrop, Erfun Hatam, and Taylor Bechamp
September 26, 2018
Each July London Health Sciences Centre welcomes a new cohort of first year residents. This is one of the many ways that we fulfill our academic mandate. While experiences vary by individual and department, post-graduate year one resident Dr. Erfun Hatam was pleased to share his thoughts about his first few months as a resident training in Emergency Medicine at LHSC.
In his final year of medical school at The Schulich Medicine & Dentistry – Windsor Campus, Dr. Hatam set out on his residency matching service tour where he undertook two week stints in elective programs at hospitals around the country. After completing Emergency Medicine electives in Halifax, Calgary, Toronto, and London, he was excited to be selected as one of the four successful candidates for placement here.
"The Emergency Medicine program offered in London is really unique," says Dr. Hatam. "There are a lot of very acutely ill people presenting in the EDs at LHSC, which offers a lot of opportunities for a wide range of high-level learning and hands-on experiences with both the ED and Trauma teams. As a citywide program, it also offers an additional opportunity to see patients with non-life-threatening illness or injuries in the Urgent Care Centre at St. Joseph's Health Care London."
Over these first few months, Dr. Hatam has been working 17-18 shifts per month that rotate between University and Victoria Hospitals. His shifts take place at varying times ranging from a 9 to 5, to overnight from 10 p.m. to 4 a.m., or to an early morning from 4 a.m. to 10 a.m. This has allowed him to experience the differences in volumes and cases that tend to present within the differing windows of time across the two sites.
As for how he has felt in terms of the team environment, he feels he was immediately welcomed with open arms.
"I remember being thrown into the work right away, which itself was great, but more importantly, I truly felt that I was being treated like I was part of the team from that first day," recalls Dr. Hatam. "Everyone has been so welcoming. I can't remember a single negative experience I've had with anyone that touches the EDs whether that is ED physicians, consultants from other services, fellow residents, nurses, emergency department technicians, respiratory therapists, allied health members, clinical leaders, ED clerks, security, cleaning staff, or partners like police and paramedics."
As for what he is most looking forward to experiencing during his time at LHSC, Dr. Hatam notes, "Each day I want to continue to build on my responsibilities and gain the confidence and skills to be able transition to independent practice as an Emergency Medicine physician. I believe that LHSC will give me the foundation to achieve that. I've only been here a short time and I've already had the chance to experience so much. I feel like the team here wants me to develop and grow as a physician and really goes out of their way to bring me on to unique cases as they present. Even if I'm not assigned to that particular service that day they will pull me because they know it will be a valuable hands-on experience."
LHSC is pleased to welcome all new residents to our programs and hope they are each feeling as warmly received by their care teams.