May 14, 2014
When Michael Hiltz's herniated disk led to cauda equina syndrome (CES), it triggered the start of an unexpected health care journey for the 46 year-old. CES is a rare disorder affecting the bundle of nerve roots that send and receive messages to and from the legs, feet, and pelvic organs.
Michael's journey started at his local hospital in Owen Sound, then he went to London Health Sciences Centre for surgery and recovery, then to Parkwood Hospital for rehabilitation.
"When I first learned I had CES I couldn't see the light at the end of the tunnel, but through the fine care provided at LHSC and at Parkwood I have hope I will be able to walk without crutches soon," Michael says.
Michael, who plays the guitar and sings around the house, wrote a song called "Hall of Fame for Nurses" to express his gratitude to all the staff who helped him with his recovery. "I am so grateful for the way the nurses looked after me – they kept my spirits up when I was at LHSC and Parkwood, and I'm sure that helped with my healing." 
Michael sang the song during National Nursing Week, May 12-16, to the LHSC and Parkwood Hospital nurses who were instrumental in his care. He specifically invited nurse Jane Vannus to the performance and she was accompanied by her colleagues on the Ortho Trauma Inpatient Unit at Victoria Hospital.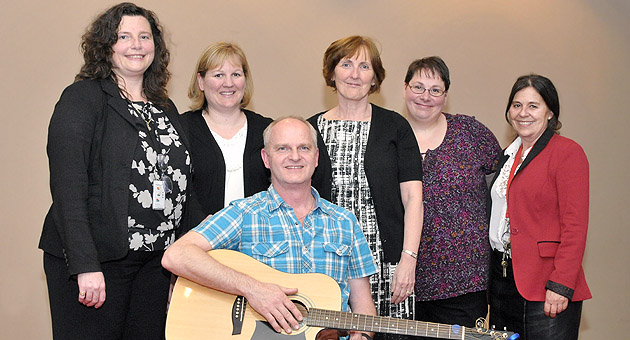 Left to right: Ann Turcotte, Coordinator, LHSC, Jennifer Mellecke, Clinical Educator, LHSC,  Jane Vannus, Registered Nurse, LHSC,  Amy Gale, Registered Nurse, LHSC,  and Donna Kalman, Manager, LHSC with former patient Michael Hiltz after performing his song "Hall of Fame for Nurses" during National Nurses Week.