June 21, 2012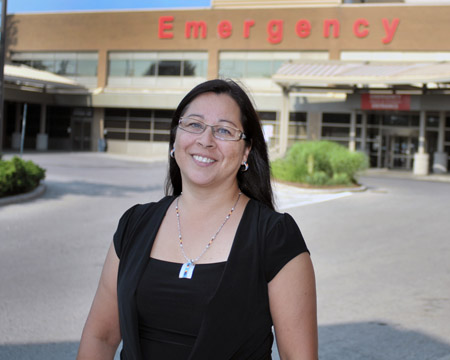 Bonnie Doxtator, aboriginal navigator, LHSC, helps aboriginal seniors navigate the health care system through their continuum of care.
Aboriginal people age 55 plus now have someone to help them navigate the health care system.
Aboriginal Patient Navigator Bonnie Doxtator provides assistance to Aboriginal patients (First Nations, Metis, Inuit, Status and Non-Status,) who need help to find their way through the complex hospital system. She also works with health care providers as a member of the care team.
"I help ensure access to and provision of, culturally appropriate health care services, and strive to eliminate any barriers that might be there" says Doxtator.
Working with Aboriginal people is not new for Doxtator, who has worked as a front line health advocacy worker for many years, including her work as the Senior's Health Advocate for the Southwest Ontario Aboriginal Health Access Centre (SOAHAC), Supporting Aboriginal Seniors At Home program.
"I will also help patients make connections to traditional Aboriginal healers, if they choose, and make referrals upon discharge to services they need to live longer in their homes." Doxtator says
"Our vision at LHSC is to provide excellent patient care, improve the patient and family experience, and engage in collaborative partnerships," says Bonnie Adamson, President and CEO, LHSC. "The aboriginal navigator program is an excellent example of our efforts to support the diverse needs of the communities we serve."
What is the role of the Aboriginal Patient Navigator?
Provide a home visit or hospital visit

To enhance communication between patients and health care providers

Increase access to culturally supportive health care 

Identify perceived or real barriers to health care

Help patients fill out or understand forms

Link patients and families to needed follow-up service

Maintain regular contact with patient during their hospital stay

Link Aboriginal patients to local service providers

Direct or lead patients to comprehensive resources
"I love working with seniors. They carry a lot of knowledge and I learn a lot from our elders so I benefit as well," says Doxtator. "I find it rewarding to work for them."
Patients and families can be referred by the staff of SOAHAC or LHSC and can also access the program through self-referral. Funding for the Aboriginal Patient Navigator role is provided to SOAHAC through the South West Local Health Integration Network (LHIN) and supported by the Aboriginal Committee of the South West LHIN.
The Aboriginal Patient Navigator is one service in a variety of services currently ramping up across the South West LHIN, targeting Aboriginal seniors at risk.  The initiative aims to improve access and quality of care for aboriginal seniors in a culturally relevant manner.
"It's essential that cultural diversity be recognized and the LHIN is pleased to support this position to help bridge the culture gap that exists between traditional western care environments and the traditions of the aboriginal communities", says Michael Barrett, CEO South West LHIN.