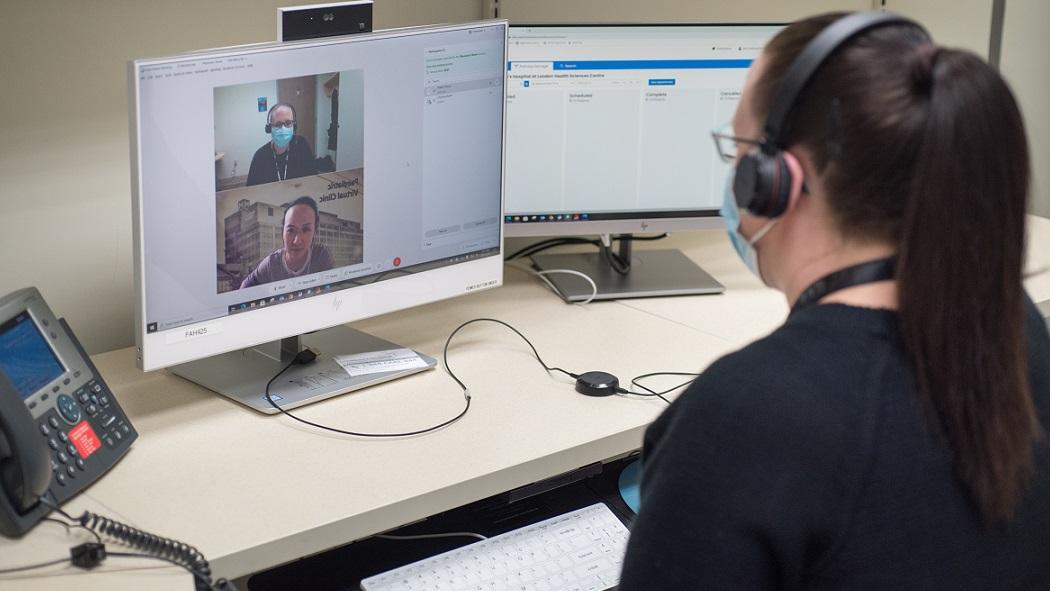 June 2, 2021
Virtual care has become a vital way to access and offer health-care services during the pandemic. It also supports physical distancing by limiting the number of people visiting health-care facilities. Most hospitals, clinics, doctors, and health-care providers have adopted virtual solutions and accelerated the delivery of virtual care to help ensure individuals and families continue to receive the care they need when they need it.
A virtual care appointment with your doctor or other health-care provider is one where you meet by telephone call or by video conference. For a video appointment, you'll use your smartphone or other device and the internet, instead of seeing your health-care provider in-person.
It's important to note, if you're experiencing a life-threatening medical issue or are in severe distress, you should immediately call 911 or visit an emergency department
If you're not experiencing a life-threatening issue, consider the following virtual care options.
Your family doctor is your first point of access
Whenever possible, your family doctor is your first point of access for care. When it's not an urgent or emergency situation and the medical condition is not life-threatening, families should contact their primary care provider first. During the pandemic many providers offer virtual or phone appointments and after-hours service.
Virtual care at LHSC clinics and programs
As an alternative to in-person visits, many of our LHSC clinics and health-care providers are offering virtual care.
If you have an in-person appointment at an LHSC clinic or program, you may be contacted about switching to a virtual appointment by telephone or video conference (depending on your individual situation and health-care needs). You can also ask your provider about a virtual appointment if it's clinically appropriate.
LHSC and other teams across the province have been conducting virtual care appointments through the Ontario Telemedicine Network (OTN) for many years. Now LHSC also uses a custom version of Webex Meetings.
Urgent virtual care at UrgentCareOntario.ca
Urgent virtual care is available through UrgentCareOntario.ca for adults and children in southwestern Ontario. A virtual urgent care appointment may be right for you if you or a loved one have a medical issue that is not life threatening, but requires urgent medical attention.
You can visit UrgentCareOntario.ca to book an appointment or call toll-free at 1-844-CARE-844 (1-844-227-3844). If you have a life-threatening emergency, always dial 911.
UrgentCareOntario is a joint initiative between St. Joseph's Healthcare Hamilton, Children's Hospital at London Health Sciences Centre, and Hamilton Health Sciences. The initiative received provincial funding to enhance pandemic response with virtual health-care options.
St. Joseph's Healthcare Hamilton – provides virtual urgent care for adults
Children's Hospital, London Health Sciences Centre – provides virtual urgent care for children/youth
Hamilton Health Sciences – provides virtual acute care consultations for long-term residents (currently Hamilton and Niagara North West)
Telehealth Ontario
Telehealth Ontario is a free, confidential service you can call to get health advice or information. A registered nurse will take your call 24 hours a day, seven days a week.
You can reach Telehealth Ontario at 1-866-797-0000. If you have an emergency, always dial 911.
This service is designed to provide:
Quick answers, information and advice related to all areas of health.
Consultation when you're sick or injured but aren't sure if you need to see a doctor, or if you can or even should treat the situation at home.
Information about an ongoing or previously diagnosed condition, medications you're taking, or any medications that you aren't sure how to take.
General information about diet and nutrition, sexual health, or healthy lifestyles.
You can also ask about drug interactions, teen health, breastfeeding, and mental health concerns.
The service does not:
Replace having a family doctor.
Provide emergency support. If the situation calls for it, dial 911 to have an ambulance or other emergency response sent out and to get emergency first aid instructions by phone.
For more information on virtual care at LHSC, visit www.lhsc.on.ca/virtual-care.