Celebrating 30 years of The Fertility Clinic at LHSC

 
May 26, 2014
London is where it all started. The legacy of this program is unparalleled in Canada" – Dr. Albert Yuzpe 
The 'it' in question is Assistive Reproductive Technology (ART), and Dr. Yuzpe was one of those on the leading edge of this growing field when The Fertility Clinic at London Health Sciences Centre was founded thirty years ago. Along with Drs. Stan Brown and Robert Casper, Dr. Yuzpe had a vision for a program which would provide innovative fertility treatment in an environment that was supportive of patients and their individual needs.
It is fitting that Dr. Yuzpe and Dr. Brown returned to London to share their experience and expertise at the 'Advancing Wellness in Reproductive Health' CME event held recently at the Lamplighter Hotel. The conference provided an opportunity for family physicians, gynaecologists and other interested medical personnel to learn about the past, present and future of ART from some of the most distinguished practitioners in the field, including current physicians of The Fertility Clinic, Drs. Valter Feyles, Jackie Hollett-Caines, Stephen Power, Maggie Rebel and George Vilos. See more photos of the conference on LHSC's Facebook page.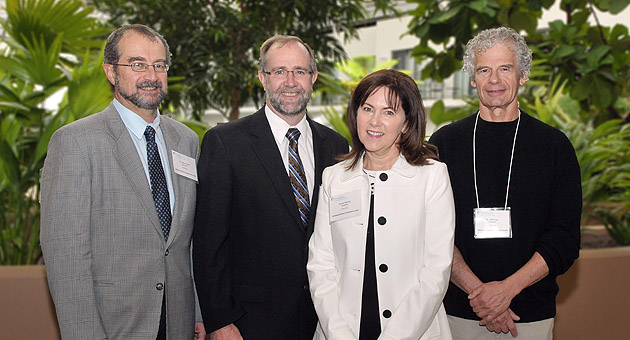 Members of the "Advancing Wellness in Reproductive Health" conference committee - from left, Dr. Valter Feyles, Dr. Stephen Power, Brenda McFalls, Dr. Jeff Nisker
Technology and medical advancements that have taken fertility success rates from from less than 20% in the early days of ART to 50-60% today resulting in thousands of births created at The Fertility Clinic.
Congratulations to The Fertility Clinic on 30 groundbreaking years in Assistive Reproductive Technology!
May 24-31 is National Infertility Awareness Week.
For more information on The Fertility Clinic, please call 519-663-2966.
We're Here For You.