LHSC patient successfully receives a heart transplant following at home wait thanks to new device
 December 20, 2013
Few people will receive an early Christmas present as precious as the one Suzana De Sousa received at London Health Sciences Centre (LHSC) in October – a new heart courtesy of an organ donor.
"I hoped that I would receive a new heart before Christmas," says De Sousa, a mother of two boys from Kitchener, Ontario. "I will begin a new year with a new perspective on life."
After a heart attack, De Sousa was diagnosed with congestive heart failure by Dr. Peter Pflugfelder, Cardiologist, LHSC. She, like many patients with advanced heart failure, had to remain in hospital hooked up to intravenous pumps providing life-saving medication while waiting for a heart transplant.
She was then only the second patient at LHSC to receive an internally implantable device that provided circulatory support and allowed her to leave hospital while continuing to wait for a donor heart. The device is called the HeartMate II Left Ventricular Assist Device (LVAD) developed by Thoratec Corporation.
"The device increases blood circulation which allows patients to better participate in rehabilitation and enhance their nutritional status"," says Dr. Dave Nagpal, LHSC Cardiac Surgeon. "Ultimately, they are stronger and better transplant candidates." Four patients have now received an LVAD device at LHSC.
"I felt strong, capable and healthy while waiting for my heart transplant at home," adds De Sousa. "I was certainly more active and it meant that I went into surgery in better physical shape and in a better state of mind."
Dr. Bob Kiaii, Cardiac Surgeon, and the cardiac team at LHSC, successfully performed De Sousa's heart transplant at LHSC's University Hospital on Oct. 23. "Her pre-operative condition was optimized," he says. "She will only get stronger as she continues her rehabilitation and recovery following the transplant."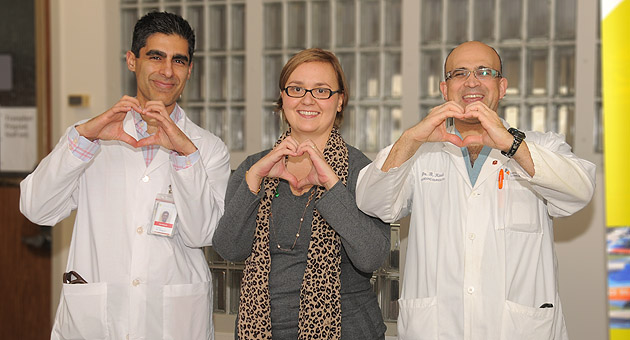 From left, Dr. Dave Nagpal, Cardiac Surgeon, LHSC, Suzana De Sousa, patient, and Dr. Bob Kiaii, Cardiac Surgeon, LHSC celebrate De Sousa's heart transplant. See more photos on LHSC's Facebook page.
"The London Transplant Gift of Life Association passionately celebrates Suzana De Sousa's life. A loving family saved Suzana by saying yes to donating their loved ones' heart," says Jane Tucker, President, London Transplant Gift of Life Association. "Over the holidays I ask that you also consider giving the gift of life. There is no longer a donor card in Ontario, but it only takes two minutes and your OHIP number to register as an organ donor online at beadonor.ca. It is important to tell your family, or your next of kin, of your intention to be a donor."
"Thank you to the donor of my heart and his or her family. There are no words to express how grateful I am," continues De Sousa. "I encourage everyone to register and be a donor."
London Health Sciences Centre is home to the country's longest running heart transplant program, with over 600 transplants performed since it was established in 1981.