December 15, 2014
London Health Sciences Centre's Lori Vantfoort, Physiotherapist, and Meredith Sharpe, Registered Nurse, set out to increase the mobility of patients admitted to the Ortho/Trauma Unit. Their idea has blossomed into an accepted practice on the unit and earned the duo the 2014 IDEAS Alumni Award in the "Greatest Learning from PDSA Testing" category.
"We wanted to prevent a function decline in patients admitted to our unit," says Vantfoort. "The idea originated from a staff observation that the amount of time that patients spent in bed while in hospital had a detrimental effect on their ability to perform normal daily activities like using the bathroom and move around independently when they were discharged."
Often patients are admitted to B9-200 for surgery or treatment of an injury, such as broken bones. Due to their surgery and injuries, many patients have difficulty moving around and performing normal daily activities in the hospital. This can lead to numerous complications including weakness, deconditioning, and loss of functional abilities even preventing them from being able to return to their own home after their hospital stay. This can result in an increased length of stay, increased ALC (alternate level of care) days (meaning a patient no longer requires a bed in acute care but are unable to return home), or increased need for rehabilitation and long-term care placement.
To turn their idea into practice, Vantfoort and Sharpe applied the knowledge they gained through participation in the IDEAS (Improving & Driving Excellence Across Sectors) advanced learning workshop, a province-wide learning initiative to advance Ontario's health system priorities by building capacity in quality improvement, leadership and change management across all health care sectors. "We relied on the Model for Improvement taught at the workshop and focused on the key element of the PDSA (Plan, Do, Study, Act) cycle in which small change ideas are tested to determine whether they result in a change and if the change is an improvement," says Vantfoort.
 "We applied the PDSA cycles to improve communication and collaboration around the functional activities of patients among nurses, physiotherapists, and occupational therapists on the unit." Examples of the communication techniques used on floor included staff education about the importance patient mobility, face-to-face communication in the morning to create a plan and coordinate tasks for the patient's day, and having everyone track the time that a patient left their bed.
"We were able to better coordinate a time for their physiotherapy, their daily shower, and when they had time to rest between activities," says Sharpe. "It can be as simple as writing a time on a sticky note placed on the door to the patient's room, but it keeps us all working together in the best interest of the patient."
Between May and November, the team went through 19 PDSA cycles, and 10 of those were related to communication. 'Winning an award for our application of PDSA techniques is very validating," says Vantfoort. "It is exciting to know that we brought about true change that is making a difference in the care of our patients and it could not have been done without the full support of all the staff on the Ortho/Trauma unit."
Their diligence in their PDSA cycles stood out as theirs was one of five projects selected from among 33 applications. Ross Baker, IDEAS Co-Investigator, Stacey Daub, CEO of Toronto Central CCAC and Donna Cripps, CEO of HNHB LHIN served as our distinguished selection committee.
"Our goal is to mobilize 80 per cent of patients three or more times a day and we started with a baseline of 30 per cent of patients mobilizing that often." says Sharpe. Currently, 71 per cent of patients on the unit are mobilizing at least three times a day. "Anecdotally, we have heard that patients are using their call bells less, using the bathroom more frequently rather than a bedpan and feeling stronger at their time of discharge."
Through a staff experience survey and brainstorming sessions, we identified that team communication and collaboration were opportunities for improvement on Ortho/Trauma.  Our PDSA cycles were focused on improving communication and collaboration around patients functional activities while they are in hospital so that they will be able to return to their own home.
"I congratulate Lori and Meredith for the impact they have made to patient care at LHSC and for the award they won as a result of their efforts," says Silvie Crawford, Vice President, Patient Centred Care, LHSC." This is a wonderful example of our frontline caregivers being empowered to use their knowledge and expertise to improve the quality of care." Crawford accompanied Vantfoort and Sharpe at the Metro Toronto Convention Centre to watch them accept their award at the 2014 IDEAS Metro Alumni Achievement Awards.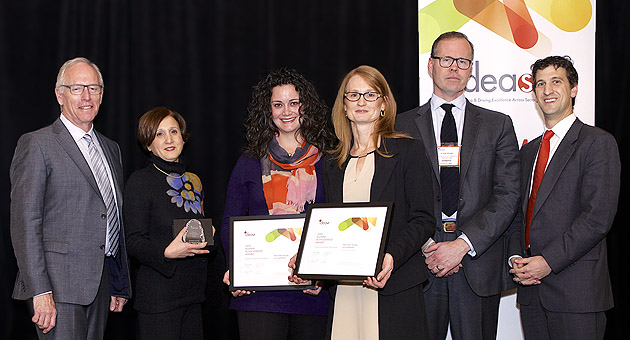 From left: Ross Baker, Co-Principal Investigator, IDEAS, Silvie Crawford, LHSC, Meredith Sharpe, LHSC, Lori Vantfoort, LHSC, Adalsteinn Brown, Co-Principal Investigator, IDEAS, Joshua Tepper, President and CEO, Health Quality Ontario at the IDEAS Alumni Award ceremony where Sharpe and Vantfoort accepted their 2014 IDEAS Alumni Award in the "Greatest Learning from PDSA Testing" category.