Distracted Driving – Josh's Story recognized by the Ontario Ministry of Transportation as the Initiative of the Year
July 9, 2014
The Ontario Ministry of Transportation recognized London Health Sciences Centre's Trauma Program as the recipient of its 2013 Road Safety Achievement Award in the category of Initiative of the Year. The Trauma Program received this award for the video Distracted Driving - Josh's Story that raises awareness of the consequences of distracted driving.
The 2013 Road Safety Achievement Awards were presented on Tuesday, June 10, at Sunnybrook Hospital in Toronto.
The Road Safety Achievement Awards were established over 16 years ago by the Ontario Ministry of Transportation to recognize the outstanding contributions of individuals, groups and organizations who work to improve the safety of Ontario's roads.
The Trauma Program revised the impact program which targets youth, to include more injury and driving issues. Local students identified distraction such as texting and driving as their main driving issues.  The youth also indicated that they wanted videos as a means of hearing and seeing the distracted driving prevention message. With that in mind, the Trauma Program, in partnership with the Josh Field Support Network and Children's Health Foundation created the video "Distracted Driving – Josh's Story."
This video is now part of the redesigned impact program. Since this video went live on December 2, 2013, it has received over 21,000 views on YouTube. The video has been shown to 12 schools with approximately 350 students in attendance. After the video is shown, the youth discuss risk taking behaviour and decision making. The video has also been shared with the larger community through social media and at national and international levels with the Trauma Association of Canada and the Injury Free Coalition for Kids.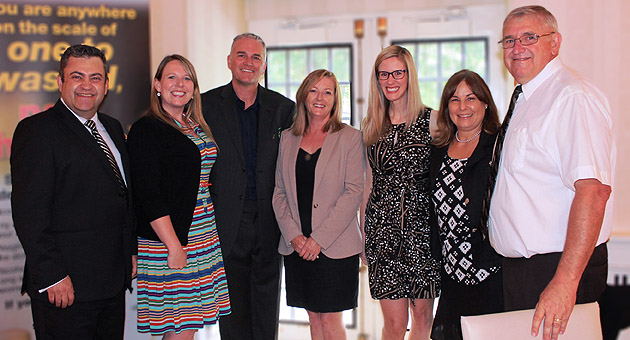 From left: Tom Marinis, Ontario Ministry of Transportation; Jane Harrington, LHSC Injury Prevention Specialist; Nigel Field and Kathryn Field, Josh Field Support Network' Lisa Wolfs, LHSC Injury Prevention Specialist; Joanne Banfield, RBC, First Office of Injury Prevention; and, John Warkentin, Ministry of Transportation.