November 26, 2012
David Crockett, vice president, integrated facilities management for London Health Sciences Centre and St. Joseph's Health Care London was the recipient of the 2012 Ivey Award for Environmental Excellence given by the London Community Foundation. This award recognizes an individual who has improved the quality of life in London or Middlesex County through outstanding contributions to the environment. It is accompanied by $1,000 grant to recipient's charity of choice.
In nominating Crockett for the Ivey award, Integrated Vice President of Mental Health Sandy Whittall also cited Crockett's many environmental stewardship activities including leading the resolution of the division of lands surrounding Westminster Ponds, and his unwavering dedication to tree planting as well as his extensive volunteer work in the community.  
Crockett has long been an exceptional and passionate steward of the environment, both in his personal and professional life. His work has made LHSC and St. Joseph's leaders in environmental stewardship. Since 2000, five phases of energy retrofits have been introduced at both organizations to save over 16,484,000 kWh of electricity each year and a reduction of 8,114,000 kg greenhouse gases.
His hospital led initiatives over the past twelve years have yielded him the recipient of two national, two provincial and one London Chamber of Commerce Environmental awards.
On a personal level, Crockett has created a tree farm with over 400 trees at any one time and each year since 1991, it has been used as a donated source to anyone looking for native trees.
"This award is a humbling recognition," says Crockett. "It is an honour to be included in the company of previous winners and this individual award is the result of support and initiatives from my team, my community colleagues and our hospital board, leaders and staff."
London Community Foundation established the Ivey Award in 1985 to honour the Ivey Family of London for their outstanding contribution to our community. For the past several years, the award has been used to recognize a champion of the environment in our community.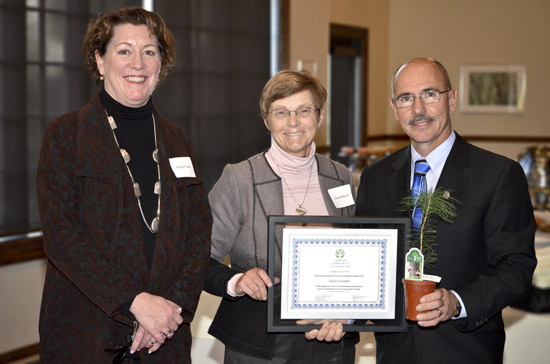 Martha Powell, left, president & CEO of London Community Foundation and Donna Bourne, chair, Board of Directors, London Community Foundation presenting the 2012 Ivey Award for Environmental Excellence to David Crockett. Photo courtesy of Bookmark Photography