LHSC's Portering Department holds grand prize draw in support of the Child Life Program
July 4, 2012
There were smiles all around the PMDU Tuesday afternoon as LHSC's portering team, assisted by PMDU patient Jasmine "Squeaky" Gemmell, drew the winning raffle ticket for a fabulous Keurig coffee maker and supplies. If your name is Irene Wubs, you're smiling too because you're the grand prize winner!

The raffle – a fundraiser for LHSC's Child Life program - was the brainchild of portering team member Steve Richardson, and was supported over the past month by fellow colleagues Kim Harrison, Mya Petersen and Mark Browning. Tickets were sold throughout the hospital, and Child Life Specialist Terry Duncan was on hand to accept a cheque totalling $1088! Duncan was thrilled to accept this generous donation, and said the money will be used to buy supplies for the Child Life department such as toys, games and activities for teens - something which is always in demand.

This is the first year that Portering has held a raffle, but the team has vowed that it won't be the last, so watch for your chance to win next year and help support a vital hospital program at the same time.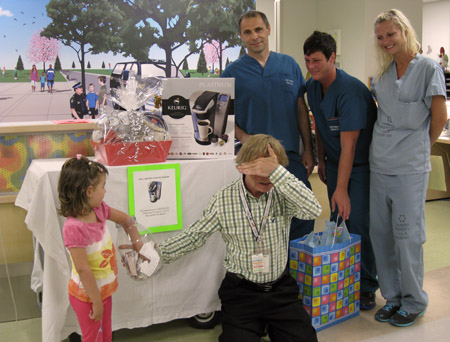 Jasmine "Squeaky" Gemmell prepares to draw the winning ticket with the help of Terry Duncan. Watching the draw from left are Steve Richardson, Kim Harrison and Mya Petersen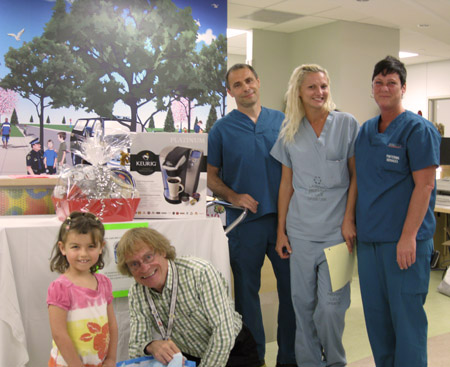 From left, Jasmine "Squeaky" Gemmell, Terry Duncan, Steve Richardson, Mya Petersen, Kim Harrison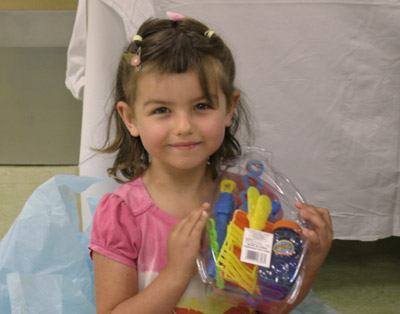 Jasmine opening her 'thank you' gift for being such a great ticket puller!