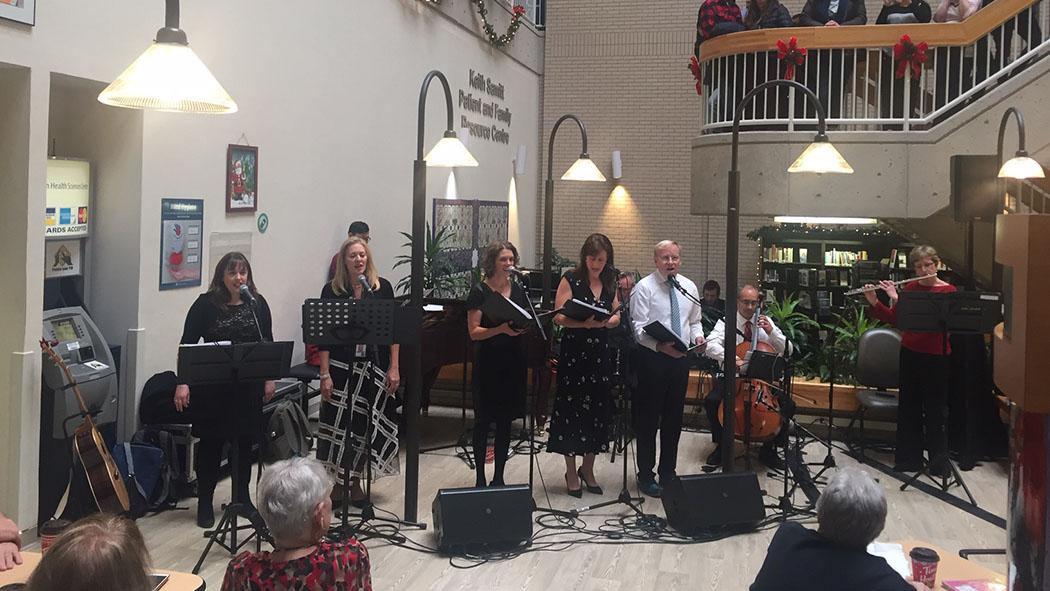 Today, nine physicians comprising "The Clinic Notes" ensemble performed a joyful Christmas concert for staff, patients and visitors at London Health Sciences Centre's London Regional Cancer Program (LRCP). The performance has become a treasured annual tradition; one that never fails to bring holiday cheer to all who are present.
"Our initial intention when we started so many years ago was to bring a little holiday joy to the staff, patients and visitors at the LRCP, and it's something we have been excited to do every year since" says Dr. Ernst, medical oncologist, LRCP. "Our hope for this year's concert was the same as it always has been, that it would be a time of encouragement and blessing for all that attend."
Dr. Scott Ernst (baritone) was joined by his medical, surgical, and radiation oncologist colleagues: Dr. Muriel Brackstone (alto), Dr. David D'Souza (piano), Dr. Mary Eisenhauer (flute), Dr. Maria MacDonald (soprano), Dr. Maria Parent (alto), Dr. Kylea Potvin (soprano), Dr. Michael Sanatani (cello) and Dr. Chris Watling (Clarinet).
Live video from this year's concert is available on our Facebook page.