As part of LHSC's recent accreditation process, 11 leading practices were submitted to Accreditation Canada for consideration. While five were initially selected as leading practices, we have since learned that a sixth practice, which is in place at both London Health Sciences Centre (LHSC) and St. Joseph's Health Care London, has also been accepted and will be shared as such with health care organizations across the country.
Leading Practices series: Leave no doubt: Write it out – Eliminating unsafe abbreviations in medication orders
This is now the sixth and final in a series of articles that take a closer look at each of the Leading Practices submitted by LHSC that were accepted by Accreditation Canada earlier this year.
Accreditation Canada defines a Leading Practice as "a noteworthy practice carried out by a health service organization which demonstrates innovation and creativity, and has a positive impact on services or outcomes for clients and families".
One of the most common and preventable causes of medication errors is the use of ambiguous medical notations. Some medical abbreviations, symbols and dose designations are frequently misinterpreted, which leads to medication errors. Serious patient harm can result when misinterpretation of a medication order results in missed, extra or improper doses, or administration of the wrong drug or by the wrong route. The pharmacy team at LHSC, sought to improve patient safety by eliminating the use of unsafe abbreviations in medication orders through the implementation of the Institute for Safe Medication Practices (ISMP) Canada's "do not use" list and a robust education and communication campaign.
"Ultimately, we wanted to take steps to eliminate unsafe abbreviations not only because it is a required organization practice, but also because we know that misinterpretation can lead to devastating results for patients and families," says Sandy Jansen, Director Pharmacy at LHSC. "When we have a list of abbreviations that are known to be misread or misunderstood, we have to address it."
Abbreviations are commonly used in medicine and are usually used safely. The medication abbreviations campaign targeted the elimination of specific abbreviations that can have demonstrated risk because they have multiple meanings and/or can look like other notations in hand written documents.  With medical care being so complex, unsafe abbreviations must be avoided, even if these abbreviations have been used commonly in the past.
Jansen adds, "It's important to align what we do with medication orders with patient safety. In this instance, it means changing the behaviours of individuals – and for many, that means breaking the habit of using abbreviations which have been common practice for their entire  careers."

The above case example image demonstrates how easily a decimal place can be overlooked without a zero in front of it. Misreading this order could lead to a tenfold increase of the intended medication dose.
To facilitate this practice change, a citywide project team was assembled. The core team included individuals from pharmacy, learning services and corporate communications. Frontline staff and physicians were involved throughout the process to help identify the most effective influences that would get people to change engrained behaviors.
Armed with ISMP Canada's "do not use" list, the group designed and rolled out a comprehensive project implementation plan, which focused on three key stages – communication and education, support and accountability and targeted interventions among prescribers and those who write, transcribe or dispense medication orders.
The communication and education phase included a poster campaign, intermittent electronic communication and online staff education. A special tool kit was also developed in line with Accreditation Canada's ROP and was made available to staff and physicians on a special medication abbreviation website. As well, to further raise awareness for the communication and education campaign, pocket cards, lanyard cards, reminder pens and order sheet reminders were created and provided to the targeted staff and physicians.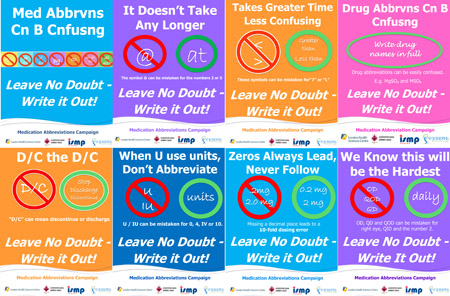 The communications campaign itself centred around three key messages, "stop using unsafe abbreviations", "speak up when you see them used" and the memorable "leave no doubt – write it out". To interject a little fun, a play on the subject matter – "Med Abbrvns Cn B Cnfusng" – was also used throughout related written communications, which created a notable visual.
"We wanted to take a lighthearted approach to the communication and education phase to really get people engaged out of the gate," says Jennifer Newman, pharmacist and project lead at LHSC. "It really set the stage for us to move forward with the latter phases of the project."
The second phase, support and accountability, encouraged staff to speak up when an unsafe abbreviation is used, included the rollout of strategies with proven success to areas that were experiencing challenges and introduced audits for compliance with direct feedback to help highlight both successes and areas where improvements could be made. The final phase included targeted interventions to improve areas where unsafe abbreviations were still being used.
Additional audit and feedback cycles and ongoing corporate communications are planned in order to sustain and improve this practice change.
Newman notes that, "While we have outlined three distinct project phases, it's really a fluid, ongoing effort and the intervention and monitoring will continue on a regular basis to ensure sustainability. It's important to continue to give people feedback with how they're doing, so they can celebrate their successes and really learn from the times where they may not fare as well."
To date, all hospital sites across the city have seen a tremendous improvement in reducing the use of unsafe medical abbreviations in handwritten orders. In fact, the campaign achieved its initial goal of a 50 per cent reduction in the number of handwritten orders containing at least one unsafe abbreviation in just four short months.
Recognition of the campaign as a Leading Practice has also meant a lot to the team.
"It's really validating the hard work that Jennifer and her team did in an environment where it is incredibly difficult to change people's engrained work behaviours," says Jansen. "They were really at the cutting-edge of taking a practice and changing it in a very manual environment and it's an honour to know that the campaign that we've put in place will be shared with and hopefully used by other health care organizations across Canada."
Newman adds, "Being recognized as a Leading Practice by Accreditation Canada is another confirmation of our ongoing commitment to improving patient safety in London's hospitals."