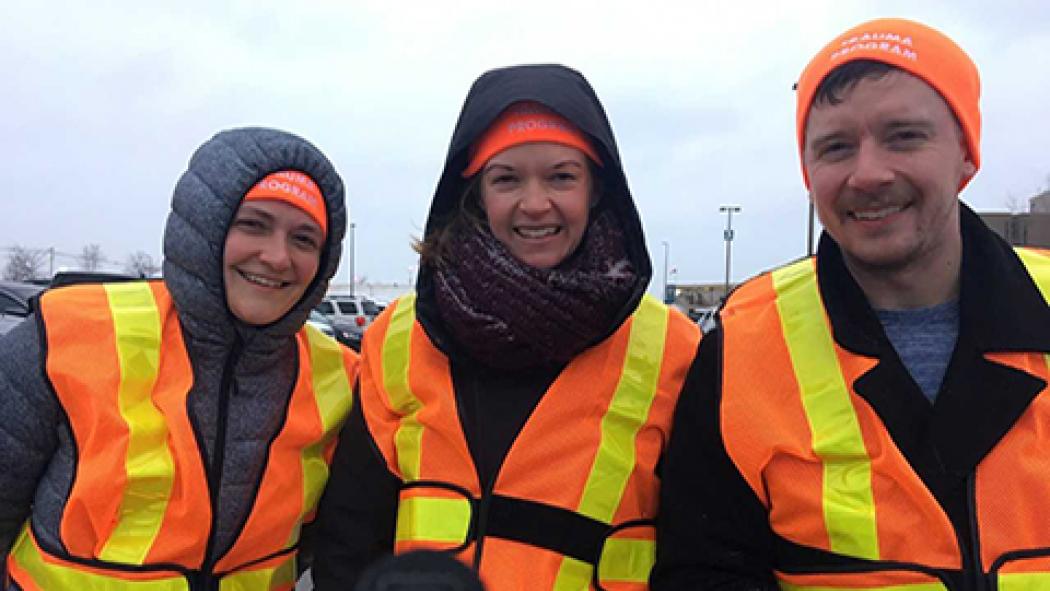 February 12, 2019
LHSC Trauma Program's Injury Prevention Team members (l to r)  Christopher Stolworthy, Jennifer Lindsay and Kat Jacobs shared safe winter driving techniques with LHSC staff. 
With winter well upon us and the weather conditions changing constantly, the Trauma Program's Injury Prevention Team is reminding everyone to drive wisely and safely. To help spread this message, the team braved the early morning freezing rain to hand out ice scrapers and emergency blankets at Victoria Hospital, while sharing tips, tools and reminders about smart winter driving practices.
"We take this opportunity each year to remind people about the importance of safe winter driving," says Jennifer Lindsay, Injury Prevention Specialist. "Our message this year is - check weather and road conditions before you leave and use Ontario 511 to plan your route. There is even an option to track plows."
Some tips to stay safe while on the road this winter include:
Plan ahead, use your judgment – check the weather forecast and plan extra time to get to your destination or decide whether you should delay your trip.
Be prepared – make sure your vehicle is winter ready – keep fuel and windshield washer fluid topped up and have emergency supplies with you (including warm clothes, jumper cables, blanket, shovel, etc.). 
Maximize your visibility – clear all snow and ice completely off windows, side view mirrors, headlights, taillights and license plates. Keep your headlights on all the time; don't rely on daytime running lights.
Slow down, stay alert, and in control – slow your speed based on the conditions and allow extra space between you and other vehicles, signal well in advance of turning to give other motorists time to react to your actions. Don't use cruise control on wet, snowy or icy pavement – it reduces your reaction time and vehicle control.
Buckle up and phone down – always!
The initiative to provide staff and patients with these winter weather tools is part of the London Middlesex Road Safety Committee's (LMRSC) winter driving safety campaign. 
More winter driving tips are available from the Ministry of Transportation Ontario.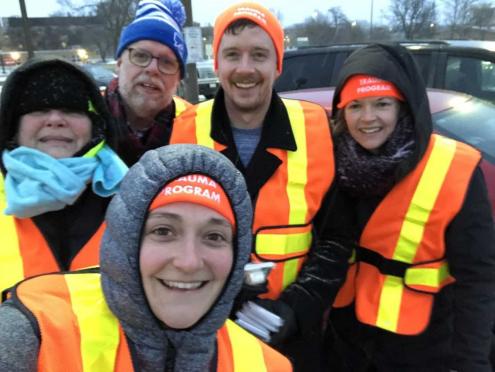 LHSC's partners at the Ministry of Transportation and Middlesex-London Health Unit braved the inclement weather to support the Injury Prevention team in handing out ice scrapers and emergency blankets at Victoria Hospital. Back row (L to R) - Jayne Scarterfield  (MLHU), Sean Wraight (MTO),  join LHSC Injury Prevention Specialists Christopher Stolworthy, Jennifer Lindsay and Kat Jacobs (front).