May 10, 2012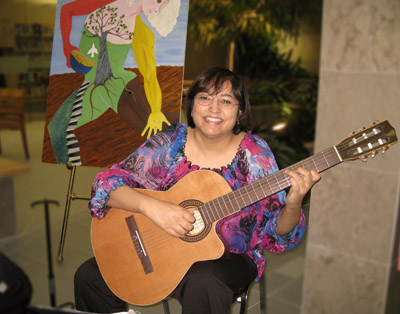 May 7-13 is Mental Health Awareness week across Canada. To celebrate and recognize this important initiative, staff from LHSC's Mental Health Care Program offered a 'mental health break' to staff, patients and visitors at Victoria Hospital on Wednesday with an exhibit of artwork created by patients of the Prevention & Early Intervention Program for Psychoses (PEPP) and the Child and Adolescent Mental Health Program, along with a beautiful musical serenade by musician Nina Jogia.
When Jogia became a client of the PEPP program in 2000, she was already an accomplished artist and musician. When she was first introduced to PEPP, she was apprehensive as many newcomers would be as to what her treatment would look like, and how she would fit into the program. She was heartened to find as she started meeting with the program team that artistic expression was encouraged and that the atmosphere in the program was one of support and nurturing of talents and interests rather than merely a clinical environment strictly focused on symptoms and conventional treatments.
PEPP provides a comprehensive service for youth and adults between the ages of 16-50 experiencing a first episode of psychoses. The program offers psychiatric services alongside peer support programs, recreation therapy, employment counseling, and other offerings geared to the needs and interests of their client base.
"The PEPP program recognized early on that recovery flourishes when individual strengths, abilities and accomplishments are recognized, valued and fostered within an accepting environment. The role of creativity and art in helping individuals through their recovery process is strongly supported at PEPP", says Jill Lynch, PEPP social worker and case manager.
For Jogia, the encouragement she has received since entering the program has been instrumental in moving forward in her recovery. "The staff can see the spirit in each of their clients, and they help you to find and release it", says Jogia.
Having participated in peer support groups as well as weekly 'jam sessions' organized for those patients interested in a musical outlet, Jogia notes that the feelings of fellowship and safety, knowing that you are with others who understand the challenges you're going through, are instrumental in helping patients to open their minds and hearts to treatment, and making them feel that they are not alone in their journey.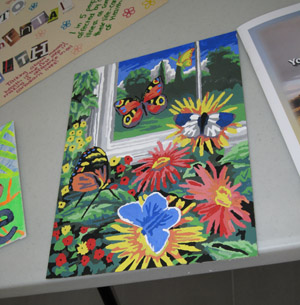 The interest among PEPP patients in exploring artistic outlets during their treatment prompted the program team in 2002 to organize what has now become a bi-annual art show, exhibiting creative projects such as poetry, canvas paintings, drawings and sculpture for patients, staff, families and the general public to visit and enjoy. This year's show will be held October 30 - November 10 at the Arts Project on Dundas St. Watch for further information on this in the Fall.
The PEPP program's innovation and dedication to patient care was recognized this week with the Mental Health Champion Award for 2012 at the Breakfast of Champions event, sponsored by St. Joseph's Healthcare London and the Canadian Mental Health Association.
The accolades received by the program are well deserved in the eyes of Nina Jogia. "The PEPP program has helped me get to a stage in my recovery where I'm thinking ahead to all the great things I have to look forward to and realizing how nice it is to have a sense of normalcy back in my life. But the best part is that I know, no matter what the future holds for me, PEPP will always be there if I need them."