November 12, 2013
Dan Logie's commitment to teamwork and collaboration are evident in his leadership style, so it makes sense that he was nominated for the President's Award for Living Our Core Values – How We Work Together.
Logie is the coordinator of the Adult Eating Disorders Program, a new mental health service that was created in 2012. Nominated by his entire team for the President's Award, their admiration for Logie is evident throughout the nomination letters. Nurse Case Manager Jill Francis explains that "Dan inspires us to higher levels of team work and we have already developed a team spirit obvious to other programs and to the clients we are supporting."
Staying true to his team spirit, Logie modestly attributes his receiving the award to a group effort.  "It's probably more of a reflection of my team than it is of me," he says, adding that it is nice for his work to be validated.  Logie also credits LHSC for having an award that puts focus on positive relationships and how we work together. 
The President's Award for Living Our Core Values – How We Work Together aims to honour staff, physicians and volunteers whose demonstration of our values have made a significant difference to LHSC. Logie is very connected to his team, and has supreme confidence in their abilities which makes for an independent and successful group.  Social Worker Julie Gerber says Logie does not shy away from specifically thanking individual team members for their hard work and dedication to the program. 
More than eight years at LHSC in social work, ENT and mental health have prepared Logie for his current coordinator role. The Adult Eating Disorders program is new to LHSC, and has been built from the ground up by Logie and his team.  Dealing with every phase from program design to relocation, Logie enjoys the high-paced and ever-changing aspects of the role, and finds that creativity is necessary when meeting each challenge. 
Logie says his number one priority is for patients to receive great care in this high-demand program, and he takes pride in representing LHSC within the community. Another nominator, Clinical Dietitian Vanessa Gilmor, explains how Logie's dynamic approach fosters strong relationships between LHSC and numerous partnerships with community organizations.
Logie displays a hands-on approach to his work."I've always had the perspective that whatever needs to get done is worth doing, and I sort of inadvertently have that demand for team members," says Logie. "Team members are willing to go above and beyond."  Certainly, Logie's team members are happy to do so when working with their inspirational coordinator.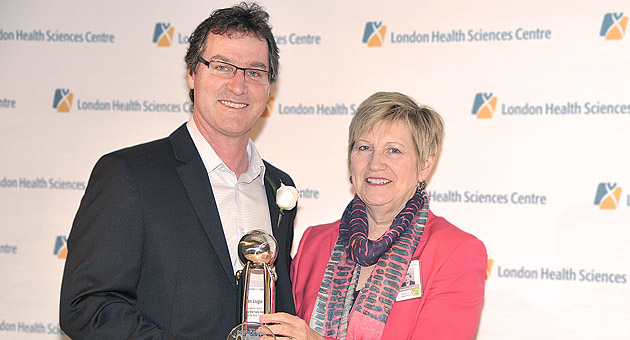 Dan Logie, coordinator of Adult Eating Disorders Program, receives his President's Award for Living Our Core Values – How We Work Together from LHSC President and CEO Bonnie Adamson.