November 15, 2013
Dr. Simon Levin is a great teacher and a great physician — just ask his students, patients and colleagues. Dr. Levin is known for his humour and positive attitude while working as a consultant paediatric neurologist. He is also now known as the 2013 recipient of the President's award for Physician Leadership.
Dr. Levin is known for his passion for ensuring children receive the best access to health care. His nominators describe how he is respected for his clinical acumen within LHSC as well as across the country.   
Dr. Levin has been practising at LHSC since 1990, and in his practice he sees patients with a range of neurological disorders including childhood epilepsy, cerebral palsy, headaches and neonatal neurology. 
"Dr. Levin's foremost professional quality is his clinical knowledge, which informs his diagnostic process and guides his treatment decisions," wrote Dr. Craig Campbell in his letter of support.
Established to honour the leadership legacy of the late Dr. Murray Girotti, a remarkable physician, teacher and leader at LHSC, the President's Award for Physician Leadership recognizes physicians who demonstrate the leadership qualities Dr. Girotti exemplified. 
As the recipient of the award, Dr. Levin was pleased to be recognized by his colleagues.
"I think the most important thing was that it was acknowledgment from the people I work with closest that they thought I deserved to be nominated. It was very important to me," says Dr. Levin." I think it's great that LHSC has awards to acknowledge what people do here."
Through his open and friendly demeanor, Dr. Levin is able to connect with colleagues and team members in a personal way and he is respectful of everyone on the team regardless of their role.  This approach, mixed with the off-the-wall humour he is known for, make him a favourite among medical students and residents.
Dr. Levin says the key to successful teaching is engagement. He tries to make his teaching interactive by asking many questions about a case so that the student can come to their own conclusions regarding diagnosis and management for a patient. 
In their letter of support, Nurse Practitioners Margo Devries-Rizzo and Lisa Pearlman explain how Dr. Levin immediately engages new trainees by building on their existing knowledge which then facilitates their confidence to acquire new knowledge and skills. He also uses humour, openness, stories of his own training, career milestones and an acute awareness of generational learning needs to teach trainees and all members of the health-care team.
Dr. Levin says his favourite aspects of his job are teaching, and interaction with kids in a clinical setting. He finds that the positive attitudes of his patients and their parents are inspiring in his work.  Dr. Levin sees those who are privileged to be physicians as very lucky.
"We're very fortunate in that you can see and feel and experience the good you've done in a very direct way."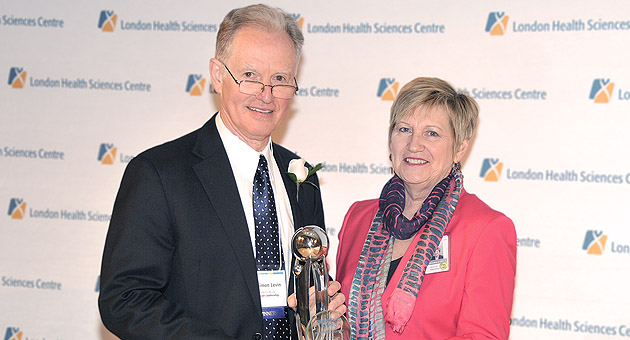 Dr. Simon Levin, consultant paediatric neurologist, receives his President's Award for Physician Leadership from LHSC President and CEO Bonnie Adamson.