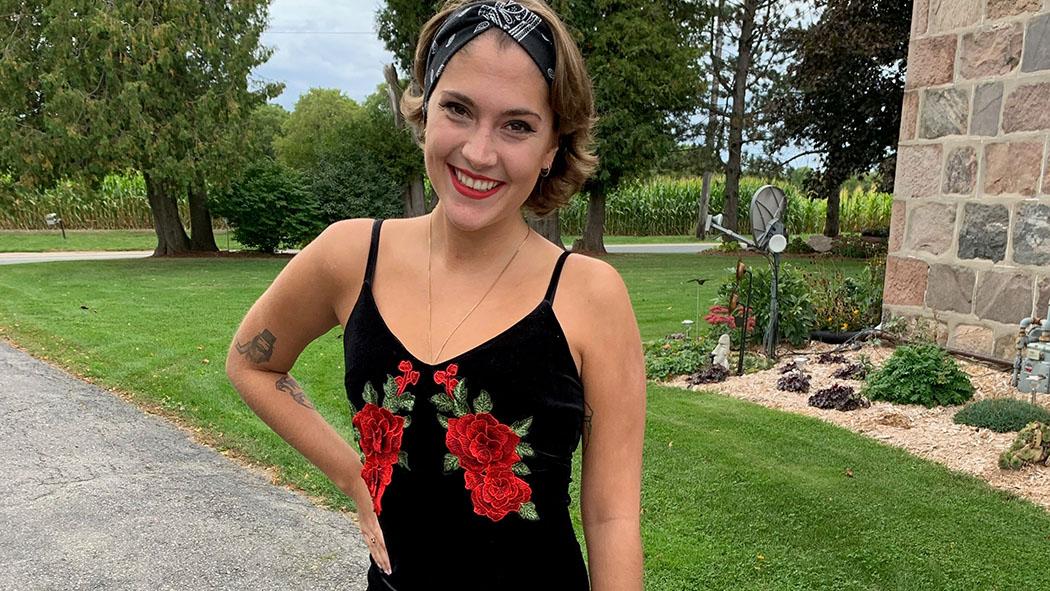 Desiree Ford, pictured on September 25, 2019 before she spoke at a fundraising event in Woodstock.
On May 4, 2018, just three weeks before her 19th birthday, Desiree Ford was involved in a horrific motor vehicle collision. In the two-vehicle crash, Desiree's friend and her puppy were killed. Desiree was air-lifted to hospital with critical injuries that included compound fractures, a cracked liver, and a traumatic brain injury among other traumas which resulted in her being comatose for 21 days, and needing to re-learn how to walk and talk. When Desiree began waking from her comatose state, it took another six weeks before she was able to speak. In total, she was in hospitals for 210 days, with 31 days spent in the Critical Care Trauma Centre at Victoria Hospital, before being transferred to Woodstock Hospital for four months, then Parkwood Rehabilitation Centre for two months.
"Upon Desiree's arrival at Victoria Hospital, she received seven blood transfusions due to the fact that her liver was cracked in four places and she was bleeding out. Her spleen was injured as well as her colon, along with punctured lungs and 11 fractures," explains Betty Ford, Desiree's mother.
The first 20 hours after Desiree's arrival were about trying to save her life. When it came time to needing blood, Betty said, "Honestly, I never gave it a thought, about the possibility of a shortage of Desiree's blood type. My focus was on her staying alive, not the details. I was only thinking of her fighting for her life. When I was told about the blood transfusions, I immediately felt grateful that we have these life-saving tools at our fingertips. I am grateful for each and every detail that helped saved Desiree's life."
And because there was available blood for Desiree, her life was saved in those first hours that counted the most.
While many of Desiree's physical injuries have healed, complications still arise. Blood donors are life-givers - without that blood, Desiree would not have had the chance to survive and heal. Today she is 20 years old and looking forward to a bright future.
Desiree describes, "This experience opened my mind about blood donation. Before my injuries, I never gave blood donation any thought, but it is thanks to the people who gave the blood I received that night, that I am alive. By giving blood, you can give someone else the opportunity to live. I should have died, but thanks to those people who donated the blood I received, I am still here."
Desiree asks that, "If you are someone who is thinking about donating blood, don't give it a second thought. Saving someone's life is so important and you can be part of that if you donate."
LHSC is a proud member of Canadian Blood Services' Partners for Life program. Through this partnership, LHSC is demonstrating its commitment to saving lives by setting an annual target for blood donation (in blood units) and encouraging staff, volunteers and physicians to help us reach that target. Just one trauma patient can require up to 50 units of blood or blood product, and one leukemia patient could need up to eight units each week. If you are not already registered as a Partners for Life member, be sure to register online before your next appointment! To book an appointment, visit online or call 1-888-2-DONATE (1-888-236-6283).