Canadian Blood Services launches urgent appeal for blood donors
October 2, 2014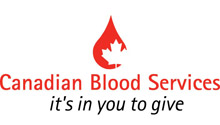 Canadian Blood Services (CBS) is appealing to all eligible donors to make a blood donation immediately to increase Canada's critically low blood inventory. All blood donors are needed, in particular those with type O and A blood.
In recent months extremely low attendance at blood donor clinics across Canada in combination with the constant need for blood has caused the national inventory to be used faster than it can be replenished. This has created the lowest national blood inventory since 2008.
Without the help of Canadians, CBS says it may have difficulty meeting the expected hospital demand across the country. For patients, this may mean deferring elective or routine treatments.
At London Health Sciences Centre, each year the organization uses almost 23,000 units of red blood cells, 12,000 units of plasma, and 5,000 bags of platelets to care for patients. LHSC is a top-three user of blood product in Ontario and the fifth heaviest user in Canada.
As an acute care hospital, LHSC cares for the most medically complex and critically ill patients in our region. Having a stable blood supply is a key factor in being able to care for these patients, and with areas such as our regional trauma and cancer programs — both high blood-product users — LHSC uses the majority of all blood products collected in London.
Soon Canadian Blood Services will have less than three days' worth of inventory of the major blood groups on hand. The ideal level of inventory for blood products is between five and eight days.
To meet anticipated hospital demand, Canadian Blood Services regularly collects 17,000 units of blood per week. On top of that regular requirement, we now need an immediate 7,500 blood donations, to replenish our lower than required inventory.
As a member of the Partners for Life program, LHSC plays an important role in increasing awareness of the need for blood and rally our staff, physicians and volunteers to make a strong and lasting commitment to blood donation. 
To book an appointment today, download the GiveBlood app, visit blood.ca or call 1 888 2 DONATE (1 888 236 6283).