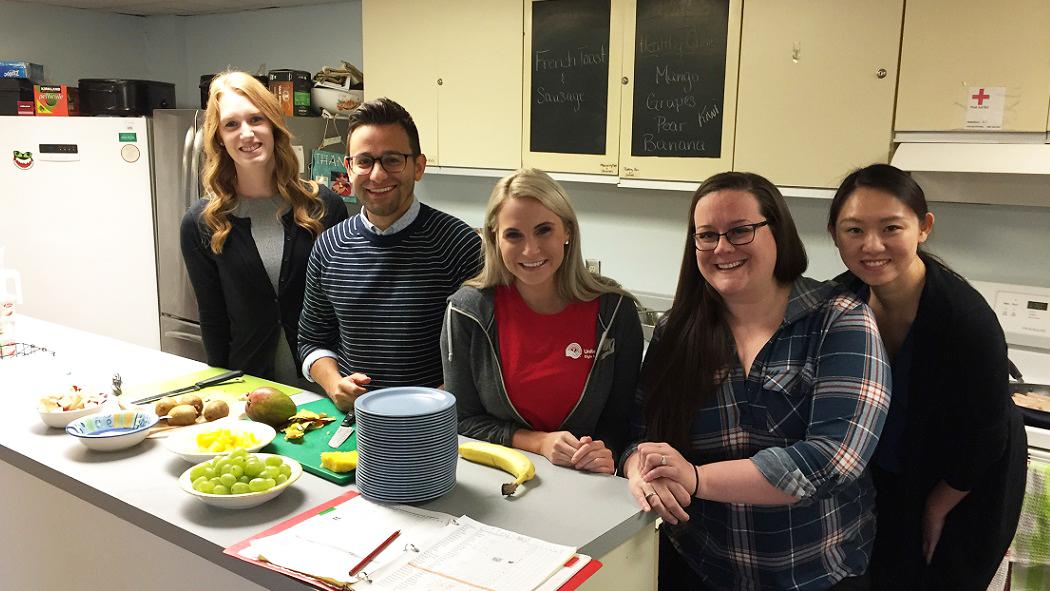 Members of LHSC's United Way steering committee volunteer at Breakfast Program. From left, Amy Forth, John Vecchio (co-chair), Christy Cornell (sponsored employee), Melissa Schenk, and Yuki Wu (co-chair).
United Way Elgin Middlesex supports 92 programs in our community with a special focus this year on three #unignorable issues: local poverty, homelessness and barriers to education.

Recently, several members of LHSC's United Way Steering Committee witnessed firsthand the impact of one of those programs. Breakfast Club, run by Neighbourhood Resource Association of Westminster Park (NRAWP) with funding from United Way, serves breakfast every weekday that school is offered to local children. The team prepared and served French toast, turkey sausage, fruit slices, and chocolate milk to over 40 children that day.

Last year over 5,500 breakfasts were served to 89 unique children from three nearby schools. The Westminster Park area is considered a "food desert" because grocery stores are too far to walk and it takes two buses to get to one. Due to this challenge, food insecurity is a concern for this area, where some families also struggle with issues like income instability, mental health, and addictions.

Every school morning, the Breakfast Club serves a delicious and nutritious meal to children who may not have access to food or may need a welcoming space to start their day. This program allows them to concentrate on school. NRAWP also offers an after-school program with snacks, and staff will pack snack bags for kids heading home for March or Christmas break to ensure no child in the area goes hungry.

This program is made possible at no cost to the children and their families thanks to funding from the United Way Elgin Middlesex.

"I'm so glad members of LHSC's steering committee were able to serve breakfast and see the impact that the United Way has on the community. Our campaign fundraising directly benefits thousands of people in our community, including children and families who might need a little support," said John Vecchio, LHSC's United Way campaign co-chair.
LHSC's United Way campaign runs until Dec. 6.