March 25, 2014
On March 3, Antimicrobial Stewardship Pharmacists Zagorka Popovski and Lindsay Creamer, and Antimicrobial Stewardship Physician Dr. Sameer Elsayed attended CAHO's (Council of Academic Hospitals of Ontario) "Strong Foundations, New Collaborations" event in celebration of the successes of several Adopting Research to Improve Care (ARTIC) programs, one of which is Antimicrobial Stewardship (AS) in intensive care units.
The event was held to facilitate recognition of the achievements of the Antimicrobial Stewardship Program as well as discussion among representatives from the academic hospitals who adopted the province-wide model. ARTIC program adopters from across the province gathered to share results and lessons learned to assist with the implementation and sustainability of the AS program across organizations.
"We enjoyed sharing and collaborating with our peers along with seeing the comparison of the ARTIC participating hospitals," says Creamer. "We were pleased to see that LHSC had one of the most dramatic drops in antimicrobial utilization."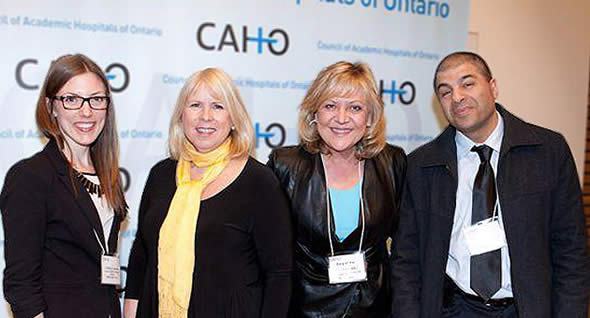 From left to right, Lindsay Creamer, The Honourable Deb Matthews, Minister of Health and Long-Term Care, Zagorka Popovski and Dr. Sameer Elsayed attend CAHO's ARTIC conference
London Health Sciences Centre started the ARTIC model in January 2013, and has seen significant changes in the first year. Antimicrobial Stewardship involves balancing potential risks and benefits of antimicrobial therapy with the goal of ensuring that patients who need antimicrobials receive the appropriate agent, at the right dose, for the right duration, and by the right route.
Popovski, Creamer and Dr. Elsayed attend regular Antimicrobial Stewardship rounds in the CCTC (Critical Care Trauma Centre) at VH, and now MSICU (Medical Surgical Intensive Care Unit) at UH. In a collaborative and educational approach, referred to as a prospective audit and feedback model, they discuss best practice for antimicrobial use with the intensive care consultants and pharmacists.
"There are really only two risks of antimicrobial use – the greatest risk is not administering antimicrobials when patients need them, and the second greatest risk is over-treating with antimicrobials. Antimicrobial stewardship is about balancing these two risks," explains Popovski.

In the year since the AS program began at LHSC, the rate of exposure to antimicrobials has been consistently lower as has the overall cost associated with antimicrobial use in the CCTC. Clinical outcomes, including rates of infection with antimicrobial-resistant organisms and Clostridium difficile are also being tracked.
"The primary goal of our AS Program is to optimize patient outcomes by fostering evidence-based antimicrobial prescribing," says Dr. Elsayed.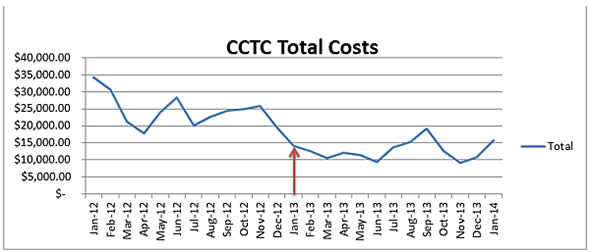 This graph shows the reduced monthly costs within the CCTC since the start of the Antimicrobial Stewardship Program in January 2013.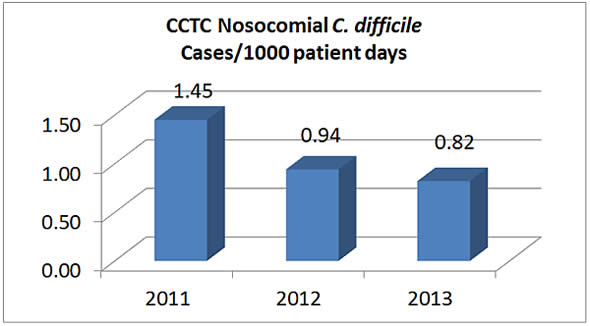 This graph shows the reduction in the rate of C. difficile cases in 2013 after the Antimicrobial Stewardship Program started compared to 2012 and 2011.