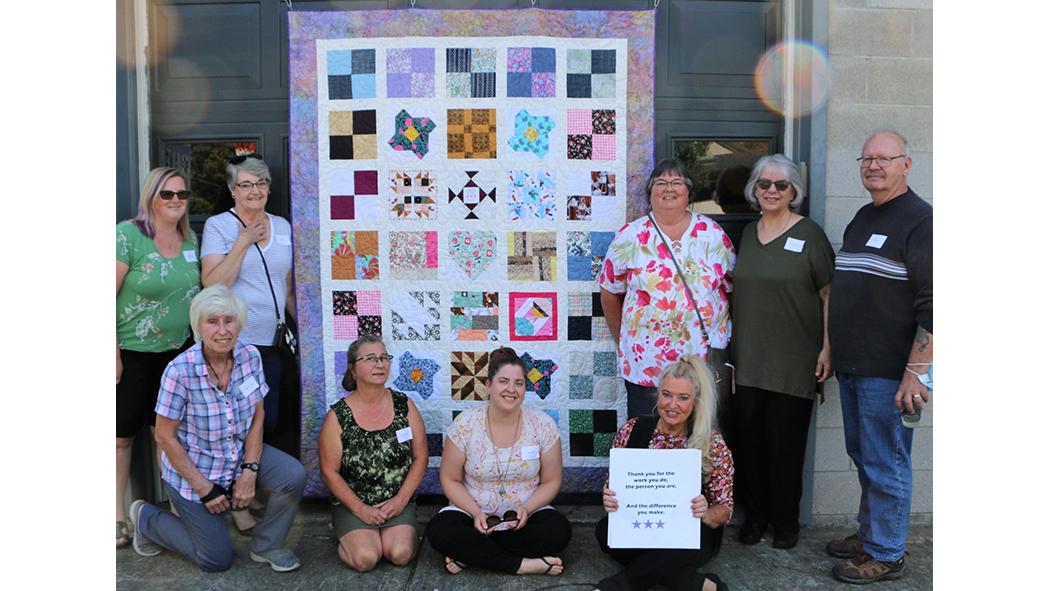 December 21, 2021
On October 27, quilts were donated to London Health Sciences Centre (LHSC) and given to six nurses and respiratory therapists. The Quilt Project was stitched together by Canada Sews – London Middlesex, a grassroots movement of sewers who began supporting front-line workers during the first wave of the pandemic.
The idea came after Canada Sews donated two large quilts to COVID-19 weary staff at the Peterborough Regional Health Centre in May 2021. There was some leftover cotton from the project, and Carolyn Buckrell, a Canada Sews member and a retired nurse at LHSC, suggested creating quilts for front-line staff at the LHSC using the leftover quilters cotton.
As a retired nurse, Buckrell's license was expired and could not help her fellow nurses when the pandemic started. Donating the quilts was her way of helping her fellow front-line care workers.
Thirty-one members of Canada Sews dedicated their time making six quilts of approximately 66" wide by 86" long each. When the project was completed, Canada Sews reached out to departments at LHSC most affected by the pandemic in early October.
Andre Boisvert, manager of Respiratory Therapy Services at LHSC, volunteered as their point of contact. He provided the names of the staff overwhelmed with COVID-19 patients, nurses and respiratory therapists who can receive one of the quilts donated by Canada Sews.
Boisvert, a nurse by background, is grateful for Canada Sews' contribution to the nurses and respiratory therapists at LHSC. Boisvert says, "I was touched by the wonderful initiative the community has created to show their appreciation for us. It was unexpected."
Canada Sews drew six names in a raffle, with each person receiving one quilt. Four quilts were donated to Victoria Hospital; two to the Critical Care Trauma Centre, one to the Respiratory Therapy Department and one to the Respirology Unit. University Hospital received two quilts, with one going to the Intensive Care Unit and the other to the Respiratory Therapy Department.
A clinical manager in LHSC's Family Medicine at Victoria Hospital, Adriana Diaz, gave one of the quilts to her nurses. The whole team was present when the nurse opened the box. Diaz and her team were surprised and pleased to see the quilt. "It was beautiful. Every area of the quilt has a nice message to recognize the important job front-line staff have been doing during the last year," says Diaz.
Canada Sews recognizes the pressure the front-line staff have dealt with since the beginning of the pandemic. Diane Coffin, the spokesperson of the movement, says, "We recognize the negativity the front-line staff have been getting, and they don't deserve that. We have to show them they are still heroes, and nothing has changed in our eyes."