February 6, 2015
London Health Sciences Centre's (LHSC) cardiac surgery program is the first in Canada to use a new suture fastening system during open heart surgery. 
During a heart valve operation, a ring or band is placed around the opening of the heart valve in order to repair a leaky valve. Traditionally, surgeons suture the ring to the opening of the valve and then fasten the sutures by hand-tying a knot. 
Using the COR-KNOT System, the surgeon places the device over the suture, squeezes the device handle to crimp a titanium fastener, which securely holds the suture together, and gently tugs the suture to trim away excess suture tails. "The device allows us to save 45 to 60 minutes of operating room time," says Dr. Bob Kiaii, cardiac surgeon, LHSC.
Patients benefit from a shorter operation by spending less time under anaesthesia and, more significantly, less time under the control of the heart-lung machine with the heart stopped, which maintains the circulation of blood and oxygen to the body. "One of the primary risks of heart surgery is the length of time that the patient's heart and lungs are not working. A shorter operation is a safer operation," says Dr. Kiaii. 
When Alred Morrow, 65, a retired teacher from Hanover, Ontario, was told he would be the first patient in Canada to benefit from the new COR-KNOT device he responded, "I had complete trust in Dr. Kiaii and his team. I had heard about the laparoscopic procedure (keyhole surgery) that Dr. Kiaii performs and asked for a referral when my heart murmur began causing me shortness of breath and fatigue." 
Morrow received his heart valve repair operation on December 17, 2014 and was home for Christmas. Following the surgery, Morrow was "walking in no time at all," but had a minor set-back with shortness of breath that saw him readmitted to hospital for one day. "My lung problem has eased and I feel much better."  After 6 weeks, Morrow is now walking on the track at the local arena every morning.
The COR-KNOT System, manufactured by LSI Solutions, Inc., in Victor, New York, has also been used in hospitals in the United States of America and Europe. Use of the device at LHSC was made possible through special approval from Health Canada.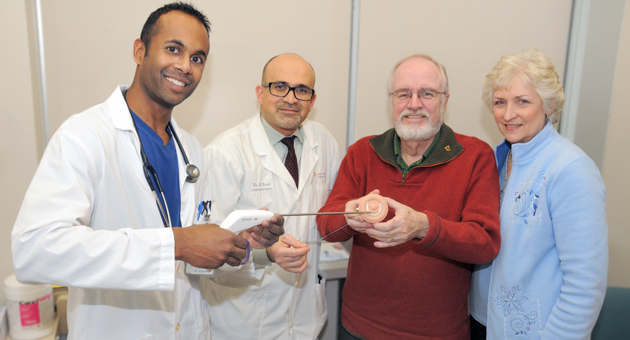 From left, Dr. Jeevan Nagendran, cardiac fellow, Dr. Bob Kiaii, cardiac surgeon, and Alred and Lorraine Morrow demonstrate the COR-KNOT System used during Alred's surgery.