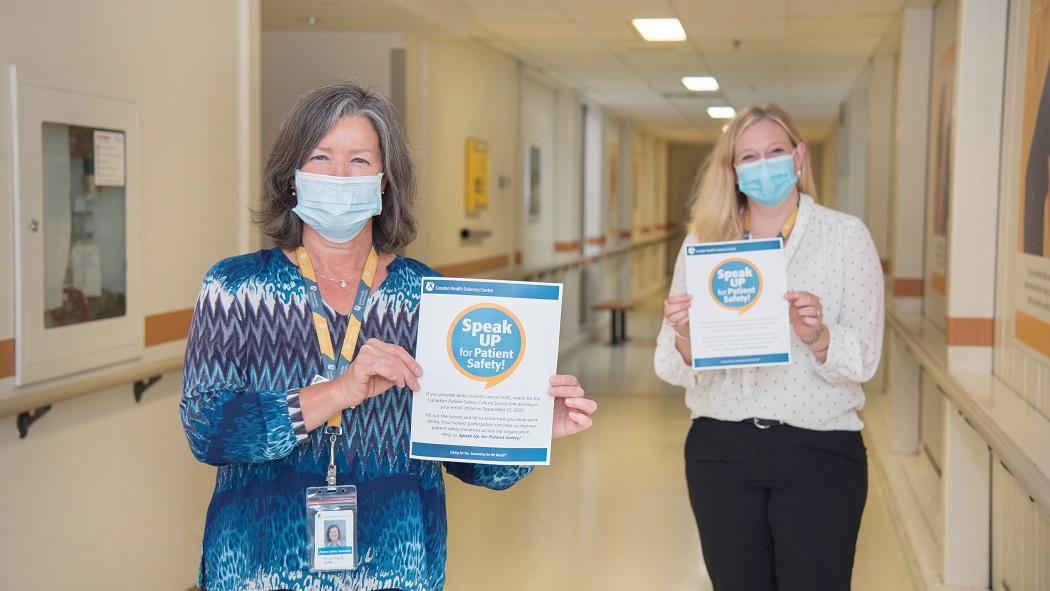 Help Speak Up for Patient Safety during Canadian Patient Safety Week Oct. 26-30.
October 26, 2020
Canadian Patient Safety Week is a national, annual campaign that started in 2005 to inspire extraordinary improvement in patient safety and quality. London Health Sciences Centre's (LHSC) commitment to deliver exceptional quality, safe care and services aligns with this objective. This week is relevant to anyone who engages with our health-care system: providers, patients, leaders, and community. LHSC encourages everyone to speak up for patient safety and participate virtually. Appropriately, the theme of Canadian Patient Safety Week 2020 is Virtual Care is New to Us.
Only 10 per cent of Canadians have experience with virtual care but 41 per cent would like to have virtual visits with their health-care providers (Virtual Care Task Force, 2020). The way to make sure health-care providers and patients make the most of virtual appointment is to use the tried and true basics-encourage patient to ask questions and to being an advocate with them to appointments.
While virtual care is not new at LHSC, it is new for many of our patients. Virtual care is a key element in LHSC's COVID-19 recovery plan and re-introduction of services including:
Virtual care appointments making up a significant portion of ambulatory patient visits.
Children's Hospital virtual emergency clinic launched in May enabling parents and children to speak with a pediatric emergency physician by video conference to discuss the child's condition and, together, determine next steps.
Urgent COVID-19 Care virtual clinic providing rapid telephone assessments and home monitoring of oxygen levels for patients diagnosed with COVID-19. Six physicians at LHSC developed a new care pathway to identify, triage, monitor, and manage the potential complications of the disease.
Virtual visit program for patients and families helping patients and loved ones stay connected via the internet while visitor restrictions are in effect. Those who can't use their own devices can get help with hospital devices and technology platforms.
Much of Canadian Patient Safety Week will take place digitally this year. Everyone is encouraged to register for free for the various webinars and podcasts that are available through the Canadian Patient Safety Institute website. Additionally, there are tools and checklists for patients and providers available to download. To stay up-to-date on the week, follow and use #ConquerSilence.
Online activities include:
Virtual Care Webinar-Monday October 26th at 12pm for health-care providers
The webinar What does ideal virtual care look like? discusses how virtual care is here to stay, and how being comfortable in this new environment is a key part of effective communication and conquering silence. Health-care providers and leaders will be provided tips and resources on what they can do to improve their patient's experiences.
Actioning Quality and Safety Webinar- Friday October 30th at 12pm for providers, patients and families
The webinar Actioning Quality and Safety: 5 goals to Align Canada on Quality and Patient Safety features panelists who will share how we can all work together to accelerate quality and patient safety across Canadian health systems. Attendees will be provided ideas on how to use the recently published Canadian Quality and Patient Safety (CQPS) Framework.
PATIENT Podcast Series for providers, patients and families
CPSW registrants will have the first opportunity to listen to the fourth season of the award-winning podcast series, PATIENT. Three new episodes will be launching this year during CPSW. They will focus on virtual care, health worker safety, and the 17-year impact the Canadian Patient Safety Institute has had on patient safety.