September 19, 2014
On Monday, September 15 leadership from Cancer Care Ontario (CCO) visited LHSC's London Regional Cancer Program (LRCP) as part of the Partnership Tour 2014. The Tour is an opportunity for cancer care providers across the province to collaboratively discuss the changing healthcare landscape and ways to strengthen partnerships within it.
Dr. Michael Sherar, President and CEO at CCO, shared insight into the upcoming Ontario Cancer Plan IV and Ontario Renal Plan II, which are anticipated to be released in early spring.
Following Sherar's Town Hall address, an interactive panel discussion took place. Panelists included cancer and renal leaders with differing perspectives and expertise, which sparked transformative conversation about improved system quality and patient care. Elisa Agnelli, co-chair of the Patient and Family Advisory Council at LRCP also participated on the panel and shared her perspective on the cancer system from a patient standpoint.
In his closing remarks, Sherar recognized that the goals for the future are ambitious but achievable. "Together, we can help to shape the future of healthcare in Ontario."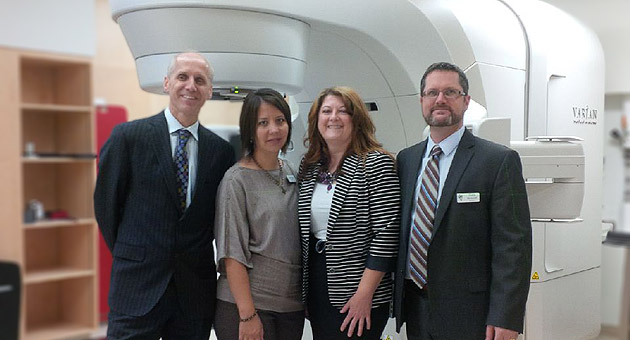 Dr. Michael Sherar, April Mullen, Kim Paton and Cory Gosnell tour the LRCP radiation therapy area