October 2, 2013
LHSC is pleased to announce it has officially kicked off its 2013 employee United Way Campaign.
Personal trainer Omar from LHSC's Fitness Program helped to launch the campaign by lifting about 350lbs of dimes that were donated through the program's "Donate Your Dimes" initiative. This initiative collected more than $5,000 - helping kick-start LHSC's United Way Campaign.
This year's internal campaign theme is "Care Beyond Our Walls" – building on LHSC's proud legacy of providing care to our community that extends outside our hospital walls, and highlighting our continued commitment as a strong corporate citizen in our community.
London Health Sciences Centre is proud to partner with the United Way London & Middlesex, whose funded agencies play a vital role in creating a healthier community – a goal that aligns seamlessly with our role as health care providers.
Together we are working to create real and lasting change in people's lives throughout our community - just like we do each and every day for patients at London Health Sciences Centre.
Visit LHSC's Facebook page for more photos of the campaign launch.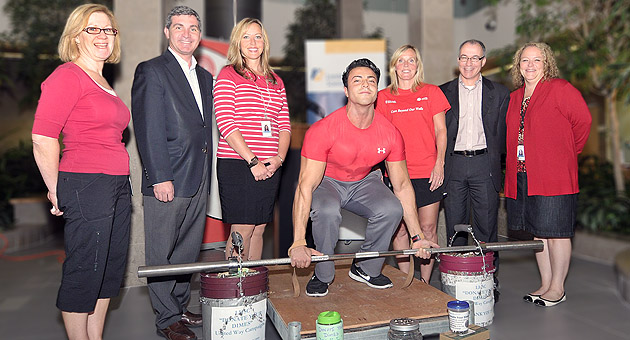 LHSC's Fitness Program has been collecting money through a "Donate Your Dimes" campaign for the last several weeks and donated more than $5,000 in dimes to help kick-start LHSC's United Way Campaign. Personal trainer Omar (centre) lifted nearly 350lbs of dimes at the kick-off event. Helping to celebrate are (from left): Lynda Hughes, campaign co-chair; Andrew Locke, United Way CEO; Julie Richards, LHSC's Sponsored Employee; Omar; Susan Rosato, LHSC Champion; Tony LaRocca, LHSC's UW Executive Sponsor; and Geraldina Meriano, campaign co-chair.
For more on what LHSC is doing to strengthen and enhance our community and partnerships, please visit the Caring for Our Community website.