October 6, 2014
LHSC is pleased to announce it has officially kicked off its 2014 employee United Way Campaign at the main offices of United Way London & Middlesex on Sept. 30.
In the weeks leading up to the campaign launch, LHSC staff participated in the "Decorate Your Department" campaign, where they purchased paper links and decorated them with their names and what they are grateful for. These "chains of gratitude" symbolically show how LHSC is interconnected throughout its sites, and by incorporating the chains into its United Way Campaign launch, it also demonstrated the importance of LHSC linking with our community.
Over the past three years, LHSC has surpassed its United Way fundraising goals and this year the organization has set a goal of $155,000 for the 2014 campaign.
London Health Sciences Centre is proud to partner with the United Way London & Middlesex, whose funded agencies play a vital role in creating a healthier community – a goal that aligns seamlessly with our role as health care providers.
Together we are working to create real and lasting change in people's lives throughout our community - just like we do each and every day for patients at London Health Sciences Centre.
See more photos from LHSC's United Way Campaign kick off on Facebook.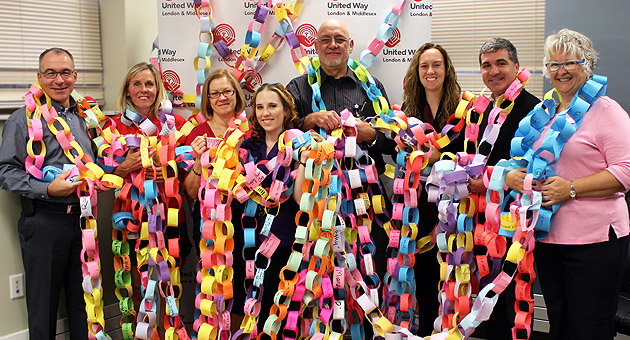 LHSC kicks off its internal United Way Campaign at the UW London Middlesex offices. From left: Tony LaRocca, Executive Sponsor of LHSC's United Way Campaign; Susan Rosato, creator of Decorate Your Department initiative; Lynda Hughes, campaign co-chair; Kim McCord, LHSC's UW Sponsored Employee; Murray Glendining, LHSC President and CEO; Lara Murphy, campaign co-chair; Andrew Lockie, CEO of United Way London & Middlesex; and Heather Emmons, corporate philanthropy officer at United Way.